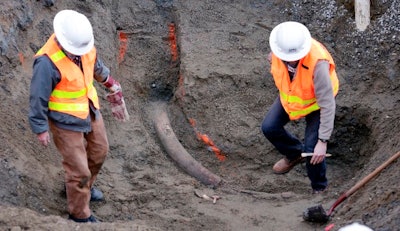 Before you begin an excavation project, you mark utility lines, pipes or anything else underground that could cause issues. But have you ever checked a site for fossils?
Contractors in Seattle removed the largest fossilized mammoth tusk ever discovered in that region from an apartment development jobsite, reports CNN.
The tusk was 8 feet 6 inches long, and the crew found it about 7 feet below the surface. Paleontologists estimate the tusk is at least 16,000 years old but could be up to 60,000 years old, according to CNN.
So, the next time you think you've hit a root or section of clay, who knows — it could be part of an ancient creature.
Read more about the discovery on CNN.com.