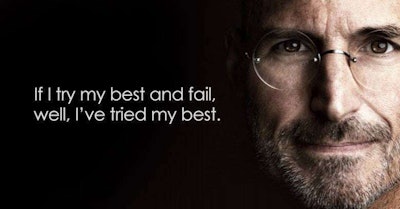 Have you ever talked to someone who has achieved greatness at a young age and felt under-accomplished? I had that times three last week.
I interviewed a 30-year-old Birmingham, Alabama, woman who created an international marketing company and published a memoir — all after losing her father and two brothers at a young age. Then, I talked with a man who launched a creative local business in his spare time — in addition to working a full-time job, raising his children and other impressive endeavors. And to top it off, I watched "Jobs," the movie about Apple creator Steve Jobs — a great watch for any business owner.
But instead of sitting back counting my inadequacies — well, I did do that for a brief moment — I felt encouraged and inspired. Knowing others have overcome the odds and created something great made me want to chase my dreams.
So who's the person you look up to? Seeing someone who is constantly moving forward can be a good motivation for you and your business. Instead of getting down about what you haven't done compared to them, be encouraged by their journey. While you might not be destined to run a business the size of Apple, push yourself to the fullest, and you'll find your path.
"In your life, you only get to do so many things, and right now, we've chosen to do this, so let's make it great," Jobs says.