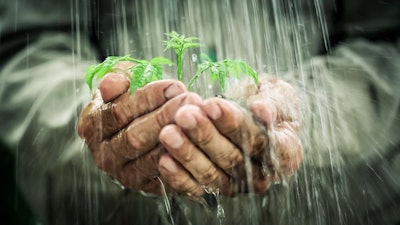 Irrigation is more than a step-by-step process.
Just like any landscape design or hardscape install, there are certain practices to follow to make sure that irrigation systems are running smoothly and efficiently.
The key to irrigation is consistent maintenance and management.
If proper maintenance is not followed, the Department of Energy says that more than 50 percent of irrigation water can be lost due to evaporation, wind, poor management, improper system design, installation or maintenance.
The Irrigation Association and the American Society of Irrigation Consultants recently released an updated version of its Landscape Irrigation Best Management Practices.
"It is the stakeholders' responsibility to advocate for efficient irrigation and to incorporate and promote all reasonable practices that minimize water consumption and waste," the updated document states. "The broad and comprehensive nature of the best management practices and related practice guidelines define the elements of an efficient irrigation system and responsible water management."
The three BMP's include:
Design the irrigation system for water use efficiency
Install the irrigation system to meet the design criteria
Manage landscape water resources
Irrigation is important to any landscape, but making sure the irrigation is efficient as possible is crucial, especially for states fighting drought.
EPA's WaterSense program offers people information on how professionals can save water. The WaterSense label is placed on products that are 20 percent more water efficient, show water savings on a national level and have obtained independent third-party certification.
"If homeowners with irrigation systems use WaterSense irrigation partners to perform regular maintenance, they could reduce irrigation water by 15 percent or about 9,000 gallons annually—or the amount of water that would flow from a garden hose nonstop for nearly a whole day," EPA's site states.
Additionally, Rain Bird put together a few tips on how landscapers can achieve the best irrigation efficiency this summer.
There are a variety of resources out there to help irrigation professionals do his or her job and do it well.
Water is too important to waste as we head into the summer months and lazy installations, improper maintenance and lack of knowledge shouldn't be an excuse for gallons of water to be wasted every day.