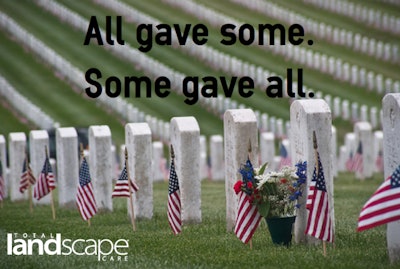 As many of you are grilling out, sunning at the pool, or boating on the river this Memorial Day, take some time to remember why we celebrate this federal holiday.
Memorial Day, celebrated the last Monday in May each year, commemorates the soldiers who have died serving and protecting our country. You may know it's an important day to honor, but you may not know these seven facts:
The holiday was formerly known as Decoration Day. It originated after the American Civil War to remember the Confederate and Union soldiers who died.
The difference between Memorial Day and Veterans Day is that Memorial Day honors soldiers who have fallen, and Veterans Day is for all military veterans.
The first Memorial Day speech was given by James A. Garfield, then an Ohio congressman, at Arlington National Cemetery in Virginia in 1868.
Congress declared Waterloo, New York, to be the birthplace of the holiday.
On Memorial Day weekend in 1988, 2,500 motorcyclists rode into Washington, D.C. for the first Rolling Thunder rally to draw attention to Vietnam War soldiers still missing in action or prisoners of war. By 2002, the ride had swelled to 300,000 bikers, many of them veterans. There may have been a half-million participants in 2005, in what organizers bluntly call "a demonstration — not a parade."
It is customary on Memorial Day to fly the flag at half-staff until noon and then raise it to the top of the staff until sunset.