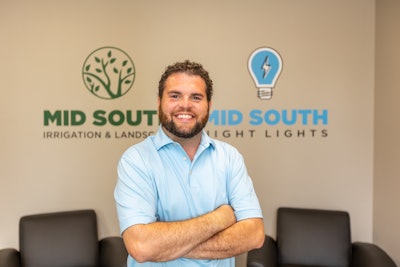 Mid South Night Lights
If you're part of a company that offers landscape lighting, you might be wondering whether it's worth becoming a Certified Outdoor Lighting Designer. This is a designation that Jesse Wisley, owner of Mid South Night Lights in Memphis, Tennessee just earned and he says that it's definitely been a worthwhile endeavor. Wisley says it has elevated his skill and professionalism. But he adds to be prepared for a significant investment of time.
Putting in the work
To become a Certified Outdoor Lighting Designer, Wisley completed an intensive program through the Association of Outdoor Lighting Professionals (AOLP). He is currently the only Certified Outdoor Lighting Designer within a 200-mile radius of his Memphis business.
"I knew it would be a huge investment of time but I did it to separate myself and to get better," he shares. "I love learning and being challenged. Through the program, I learned different techniques and it really opened my eyes to new design ideas. I learned so much from the other participants."
Wisley started his business in 2011 and has been focused on continuing education all along. He says that he never intends to stop learning. There is always something new to become familiar with, and involvement with the AOLP is a great way to "keep up."
In fact, according to the AOLP website, the Certified Outdoor Lighting Designer program was created to "address the growing need for learning."
Some of the program's purposes include teaching best practices, instilling professionalism, exposing participants to different lighting perspectives, and helping participants gain industry recognition. The program also aims to address growing regulatory and trade-related issues.
What's involved
The program can be completed in just over a year and does require attendance at two consecutive AOLP Illuminate conferences. Wisley says that he also participated in online webinars and presentations and had to complete three personal growth projects that were peer-reviewed and presented to the group and the instructors. In order to keep his new certification active, Wisley will also have to participate in continuing education credits.
Like all program participants, Wisley was also assigned a mentor who had already completed the program. Now that he's finished, he says he's going to be mentoring two new participants over the next year.
"There's so much to learn in this industry but you have to get out there and make the effort," Wisley adds. "Attending the Illuminate conferences also teach you so much. It's something you leave feeling you really got a lot out of it."
The next Illuminate Conference will be held from February 22 to 24 in San Antonio, Texas.
Those who wish to learn more about the Certified Outdoor Lighting Designer course can visit AOLP's page for information.