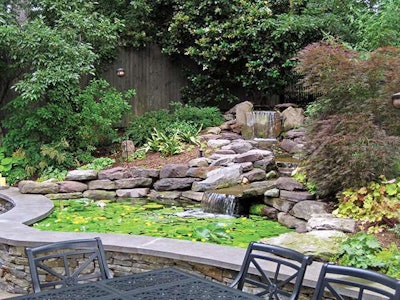 The site and sound of water can transform a client's yard into a tranquil, relaxing outdoor room – even in small spaces.
"People have busy, hectic lives," says Jeffrey Ingrassia, owner of AquaFX and Outdoor LivingFX in Mt. Sinai, New York. "They enjoy coming home to a water feature."
But, working with a compact yard can add another level of planning to the project. Here are tips for creating impressive water features, no matter the yard's size.
Perfect fit
Choosing the right type of feature for the space is imperative for a successful install.
Urns and bubblers are especially popular for small areas, Ingrassia says. "Even though they aren't big, elaborate water features, they still offer tranquility and a relaxed atmosphere," he continues. Stacked pavers that have a recess basin and bubbler are another option.
Ben Bowen, landscape manager for Ross NW Watergardens in Portland, Oregon, and a Landscaper of the Year finalist, suggests installing a small bubbler or something formal. "The bubble style works with a small footprint, and you don't generate too much splash," Bowen says. "Formal water features give you the most control over the wash and splash."
Low-maintenance water features, like pondless installs, are also growing in popularity, Bowen says. Another trending style is a variation on the drilled-column water feature.
When working around pools, Ingrassia likes to install retaining walls with sheer descents that come out of the wall. The water could recycle through the pool or recirculating basin. In tight spots, he suggests using casted rock that's backed with rebar and is structurally sound.
"If it's small and they want a huge water feature, try to make it look more natural," Ingrassia says. "If they want high water features, boulders are good. But, you need the castings for reinforcement." His go-to material, glass fiber reinforced concrete (GFRC) panels, can be used for vertical and retaining walls.
Lively pairs
To make the feature pop, landscapers can add a variety of plants and complimentary additions that really liven up the space.
"Plants are so vital to making the feature look natural and make it pop," Ingrassia says.
Ingrassia uses low-growing juniper ball harbor, groundcovers like sedums, hostas, fountain grasses and Japanese maples. "There's something about the red cutleaf maple that's so appealing," he says. "The maple cascades like an umbrella over the feature."
Bowen likes to use Japanese painted ferns, Acorus, dwarf mondo grass and scotch moss around water features. "Plant something behind your first fall, creating the illusion that your stream is just the visible portion of a larger whole," Bowen suggests. "Use large stone: It is much better to use a few larger boulders than a pile of basketball-sized rocks."
To make the feature seem bigger, teams can surround it with design elements that fit a natural body of water. "River rock can be used to make the pond look larger than it is," Bowen says. Another option is using bog plants on the edge of the feature, which can give way to ornamental grasses that blur the pond line.
Other features that pair well with water elements are patios, like a large stone slab that juts out over a pond. "If there is room for a meandering path with a bridge over – or stepping stones through – the stream, great," Bowen says.
Design concerns
When choosing the right spot for a feature, no matter the size, Bowen says to be mindful of the primary viewing points. "Don't hide a great water feature where you can't see it from a window," he says.
Ingrassia likes to put the feature in the socializing area. "Let's bring the waterfall up close so you can hear it," he says. If there's a pool, he'll install the feature between the pool and patio.
Things to avoid
A smaller backyard can limit design options. One of the most difficult water features to install with a constrained space is a natural looking stream and pond feature, Bowen says.
While clients may want the feature to push the limits in their small space, landscapers shouldn't design a stream that's too tall. "When you fit a 4-foot drop into a small area, it's hard to keep all of that water in the liner," Bowen says.
All water features generate some splash, and in a tight area, the crew needs to consider where that splash is going. "Your pond or basin can only be so big, so it limits the amount of splash you can catch," Bowen says.
Another issue is gaining height for falls. "Think about mountains – the higher they are, the wider the base is," Bowen says. "You generally want the same thing with your falls and stream. It takes space to build up to the height you want."
Working in a tight space can also tempt landscapers to make design compromises. For example, a client may ask for a large pond, but the skimmer will take up a good portion of the available space. "It can be tempting to eliminate that piece of essential filtration," Bowen says. "You and the client will probably regret it."