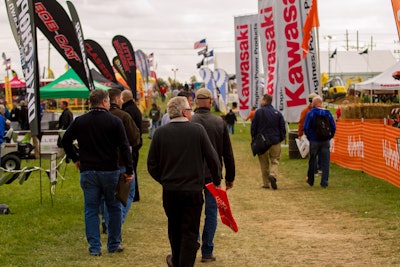 Everyone knows by now there are certain rules to follow when covering the showroom floor at GIE+EXPO set for Oct. 23-24 in Louisville, Kentucky.
This year will be no different.
Attendance for the overall GIE+EXPO show was up 12 percent last year with dealer attendance up 6 percent.
Chances are, exhibitor attendance could be strong this year, which means more new products, technologies and booths to see.
Here are five must-haves that you need on the show floor:
Good shoes
A good pair of walking shoes is going to be your best friend at GIE+EXPO. You will be walking around a 500,000-squaure-foot Kentucky Exposition Center, as well as the 19-acre outdoor demonstration area. If you didn't think shoes were important – you should think again.
Right outfit
The time of year is a tricky one for the Louisville area when it comes to weather. There have been times where it's sunny and 70 degrees one day and sleeting and 40 the next (I know, because I saw it). It's important to dress in layers. Bring a cooler outfit for inside and a jacket if it's cooler outside. The nighttime is always cooler with the chance of rain or wind. The best thing to do is check the weather before you pack, as well as head out for the day.
Hydration and snacks
If you're anything like me, it's vital to bring snacks. You will be burning a good bit of calories walking around the show floor, and you will get hungry and thirsty. The closest availability for food is the Exposition's cafeteria, which is usually packed around lunchtime – aka good luck finding a seat and you will be waiting in a long line. Ideally, it would be smart to pack a lunch and bring it with you.
A book bag
Bring something to carry a good bit of materials. A lot of manufacturers will be giving away "freebies" at booths, as well as valuable information. You'll need something to carry around folders, small trinkets and personal belongings.
A plan
Last, but certainly not least, make a plan. Decide when to arrive at the show, because if you get there late, you will definitely be parking far away. Get the GIE+EXPO booklet, and make a map of where you want to visit and when. If you have specific places you want to hit, make sure you hit those first. The manufacturers will have plenty of time throughout the days to talk to you, but meandering the floor for hours walking back and forth is not the best way to use your time. There's a lot to see, so don't waste it staring at your GIE+EXPO booklet figuring out where to go next.