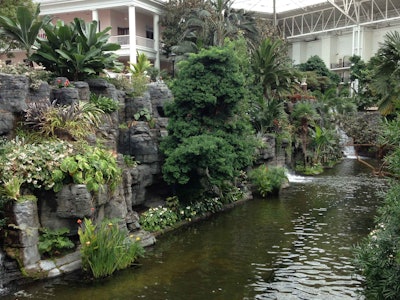 For most landscapers, their jobs revolve around incorporating clients' indoor styles and tastes into outdoor spaces. But for the Gaylord Opryland Resort & Convention Center in Nashville, Tennessee, a group of landscapers brought the outdoors in.
I got to enjoy the sights and natural beauty at the Gaylord Opryland two weeks ago during Kubota's annual dealer meeting.
If you've never been there, it's an impressive 9-acre botanical garden. Although the building flooded in 2010, there are hardly any traces left of the disaster. (However, it was raining the whole time I stayed there, and the glass ceiling did have a few leaks throughout the plant area.)
For those who love to be surrounded by nature, this resort is the perfect spot to relax.
A 20-person staff maintains the gardens, which attract more than 1 million visitors each year.
There are several different garden areas, which include more than 8,200 tropical ornamental plants, representing 449 species, as well as the koi pond, fountains and a waterfall.
Not only are there plants and natural beauty, but there's also a shopping and eating area.
Throughout the night, there are water fountain shows that can be seen from the shops.
RELATED: Rebirth of a Landmark
And during the Christmas holidays, the resort really puts on a show with lights and holiday decorations.
Check out some more photos from the hotel below.