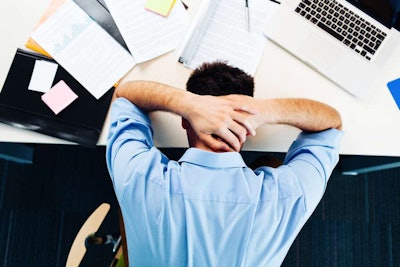 In recent years, I've noticed a bunch of new "holidays" being celebrated that I've never heard of before. Crazy about Jif? Sorry, you missed Peanut Butter Lovers' Day – it was last month. You also missed out on If Pets Had Thumbs Day, which I'm not exactly sure how you celebrate, anyway. I did notice Pi Day on March 14 (3.14, get it? Ha.) because some of my friends took the opportunity to indulge in pie of the non-mathematical variety.
Still, not all of the observances I've never heard of are silly or frivolous. Many are targeted to raise awareness, or encourage people to take part in something worthwhile. That's why I have no problem at all that today, April 16, is Stress Awareness Day. I've never heard of it before, but if there's anything most of us could do away with in our lives, it's stress. Did you know nearly half of all adults suffer adverse health effects from stress? It can cause headaches, pain, sleep issues, memory problems and emotional distress, just as a start.
With that in mind, here are some tips to help you manage stress.
Recognize and pinpoint your stressors – If you know what factors in your life are causing stress, and why, you're more likely to be able to do something about it, and to figure out if it's a temporary or long-term situation. Then, you'll have the tools you need to manage and even accept the stressors.
Think rationally – If it's the busy season and you know things are unlikely to slow down for the immediate future, try to accept that and move on. When you feel pressure rising, remind yourself that you're going to feel a certain level of stress and disorganization until you're over the hump. Judge your stressor objectively – is it really worth all the fuss? If it is, then by all means, deal with it. If it's not, shake it off and move on.
Encourage harmony – If you're nice to others, they're often nice to you, a situation that will help relieve stress in itself. Avoid discord in your personal and professional relationships when possible, and ask those closest to you to help you maintain civility in the home and workplace.
Personalize a plan – You can read a ton of tips articles giving you suggestions on how to control your stress. Have lunch with a friend. Take a walk outdoors. Watch some fish swim. Pet a dog. Meditate. Realistically, what works for one person might not necessarily help someone else. Develop your own stress management plan. Think of the things that make you feel calm and happy, and replicate them in your everyday life. Find the activities that soothe your soul and lift your spirits, and you'll be well on your way to stress management, even if those activities don't include celebrating Talk Like A Pirate Day.