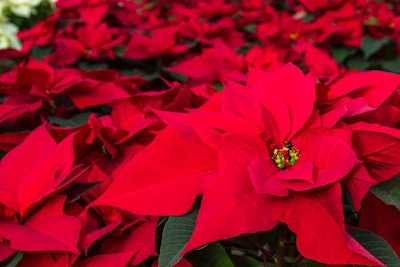 There are many holiday traditions and icons that become so ingrained in our culture it sometimes seems a mystery as to where they came from at all.
Along with Christmas trees, the poinsettia is commonly thought of when one thinks of holiday plants for December. Its history, particularly how it ended up in the United States and associated with Christmas, is interesting to say the least.
Native to Mexico, the poinsettia was used by the Aztecs as a source for purple dye and medicine for fevers, according to the American Phytopathological Society. It was introduced to the United States in 1828, when the first American ambassador to Mexico, Joel Roberts Poinsett, noticed the fiery red plants flourishing in Taxco.
Being an avid horticulturist, Poinsett sent some of the plants home to his greenhouses in Greenville, South Carolina. He was able to propagate them and distributed them among friends and botanical gardens.
One of the friends who received some of the first poinsettias was Colonel Robert Carr, who owned a nursery. He introduced the plant to the Pennsylvania Horticulture Society for cultivation and trade in 1829, according to Dr. Leonard Perry at the University of Vermont.
There is a quaint legend about how the poinsettia became associated with Christmas. A poor Mexican girl named Pepita was upset that she had no gift for the Christ Child at the Christmas Eve service. Her cousin told her that no matter how humble her gift was, if it was given in love, it would be acceptable.
Pepita gathered together a scraggly bunch of weeds into a bouquet and laid them at the nativity scene. The weeds then suddenly transformed into blooms of brilliant red. From then on, the flowers were known as Flores de Noche Buena, or the Flowers of the Holy Night, since they bloomed each year during the Christmas season.
Actually, poinsettias became associated with Christmas thanks to the savvy marketing of a German immigrant family, the Eckes. The family settled in Eagle Rock, California, in the 1900s. Albert Ecke noticed wild poinsettias growing along roadsides in the winter, thought they would make good Christmas flowers and set about growing the plants as an off-season crop.
"They just started calling it 'the Christmas flower,'" Paul Ecke III told SF Gate.
The true marketing came into play in the 1960s, when Paul Ecke Jr. began to give poinsettias away to TV hosts such as Johnny Carson and Bob Hope. He also managed to incorporate his plants in women's magazines' Christmas photo shoots. This media savvy caused poinsettias to be accepted as a necessary holiday decoration.
The Eckes had a monopoly on the poinsettia industry until the 1990s, thanks to a technique that caused their poinsettias to look much fuller than competitors'. When their secret was revealed by a university researcher, other companies began to cut into the market with low-cost labor from other countries.
In 2002, Congress passed an act that made Dec. 12 National Poinsettia Day in honor of Paul Ecke Jr.'s contributions to the poinsettia industry. Dec. 12 was chosen because it's the day Joel Poinsett died in 1851.
Although they originally only came in red, breeding has created poinsettias that now are all shades of purple, pink, white and mixtures of the colors.
"There's nothing that can touch a poinsettia in terms of getting a holiday feel," said John Nicolini, president of Delano Nursery Inc. in Daly City, California. "The beauty of them is unsurpassed."