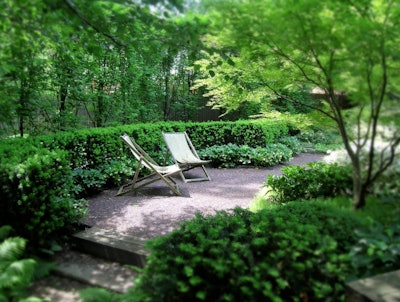 Anyone who's spent long hours working in the garden knows the pleasure that comes from a job well done. And there's no better vantage point than a garden nook: a small, secluded spot in which to relax and enjoy the fruits of your labor. It can be under a big tree, in a corner under an arbor, or even in a flower bed, where your customers can be surrounded by blooms (as well as their fragrance). Seating can be as simple as a rustic wooden bench or as nap-inducing as a chaise with plump pillows. For dining al fresco, consider adding a bistro table and chairs.
Here are some idyllic spots to inspire your customers to carve out their own garden hideaway.
In a small backyard in Ottawa, Ontario, a simple seating area is surrounded by a sea of yellow flowering sedum. Two stained-wood Adirondack chairs are topped with red patterned pillows that add just a dash more color.
With its drift of pale pink Eden climbing roses, this romantic corner is simply stunning. A rustic bench provides a place to sit, although it may be hard to concentrate with the intoxicating smell of all those blooms!
This sun-dappled spot, with its white canvas sling chairs and gravel patio, is all about the greenery. Note the different shades and textures, courtesy of the yew at the steps, the low boxwood hedge and the row of hornbeam trees behind.
The perfect setting for coffee or a casual bite, this teak bistro table for two is surrounded by raised flower beds planted with cheerful yellow and orange marigolds. A pea gravel patio adds texture and firm footing for the table. To successfully install a patio like this, the designer points out, the key is to have a firm base (by tamping the soil underneath) and to use only ½ to 1 inch of gravel.
This modern nook in San Francisco, with its single chair and table, features an artful array of plants displayed on stacked open shelves. The designer says it reminded him "of a cabinet of curiosities — in this case the collection is made of succulents and cacti."
Sometimes creating a restful moment in the garden is as simple as tucking a teak Chippendale-style bench among the trees. Here a Cercidiphyllum japonicum (Katsura tree) shows off its fall colors and puts out a subtle, sweet fragrance in the waning days of autumn.
This moody blue wall, which sets off the plantings beautifully, is just part of the appeal of this small shaded space. Other pluses: the stone benches, charming statuary and lush plants — among them hostas, ferns and boxwood.
Hidden against an ivy-covered white stucco wall, this pea-gravel-covered patio is just the spot for daydreaming. Garden visitors can settle in on one of these curvy, pillow-topped chaises, smell the climbing roses and enjoy the fluttering of the bamboo in the breeze.
Pathways of Grand Canyon flagstone meander through this spectacular garden outside of Chicago. Packed with rare and one-of-a-kind plants, this quiet spot, with its teak rockers, provides a chance to stop and admire the surroundings.
This hillside perch in Pasadena, California, complete with swoopy modern hammock, is surrounded by drought-tolerant succulents.
In the foreground is ornamental Aeonium 'Sunburst," whose variegated yellow and green rosette-like foliage looks just like flowers.
EDITOR's NOTE: This story was written by Houzz contributor Lisa Higgins, a longtime design editor/writer based in New York. Here's some related design content at Houzz: 25 Ideas to Perk Up Your Side Yard; 441,371 Landscape Design Photos; and Gardening Tools at Houzz.