Jacklin Seed has been awarded a patent on the unique characteristics of its most recent bluegrass seed, which it is branding as "My Holiday Lawn."
My Holiday Lawn is different from ordinary lawn grasses, the company says. The variety was selected for its low-growing, compact canopy and the ability to maintain green leaves below the mowing height, even when left unmown for weeks.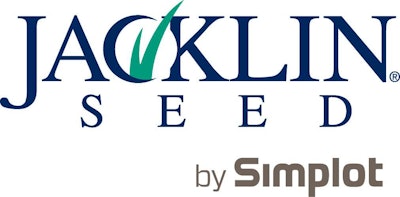 Jacklin Seed, a division of J.R. Simplot Co., says these significant genetic differences make My Holiday Lawn a great choice for golf course roughs, school yards and residential lawns – anywhere, the company says in a news release, that "attractive looking bluegrass along with significantly reduced mowing costs is advantageous."
"When you do mow My Holiday Lawn," says Dr. Doug Brede, a bluegrass specialist who developed the new variety, "the leaf growth is only partially removed, keeping your lawn looking fresh and green, not brown and stemmy like ordinary lawn grasses under infrequent mowing."
Chris Claypool, Jacklin Seed general manager, stresses that in addition to its compact growth, My Holiday Lawn "is beautiful turf."
My Holiday Lawn sod can currently be sourced from select turf producers worldwide.