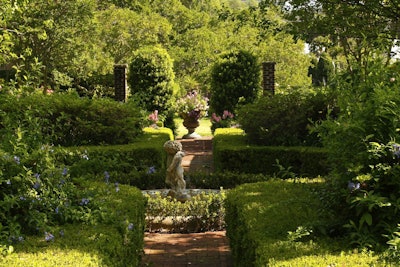 The National Park Service is celebrating its 100th anniversary this year, and is using the slogan "Find Your Park" to encourage individuals to find national parks that are special to them.
When you think of national parks, wild expanses like Yosemite National Park come to mind, but the National Parks Service is also responsible for the National Register of Historic Places and strives to preserve America's historic and archeological resources.
Among these historic places are locations cultivated by landscape architects – designed spaces that harness nature and create environments that are both useful and aesthetically pleasing.
Here are just a handful of the designed landscapes that are listed in the National Register.
Meridian Hill Park – Washington, D.C.
This park was established in 1910 by an Act of Congress and then built over the next 25 years. It is an urban park with a neoclassical design. Architect Horace Peaslee, landscape architects George Burnap and Ferrucio Vitale, and designer and contractor John J. Earley collaborated to bring this park to life. It is located on a slope and a cascading fountain and terraces take advantage of this topography.
Woods Hill – Franklin, Virginia
This historic estate's landscape was designed by landscape architect Charles Freeman Gillette. He transformed the wooded site into a man-made naturalistic park that melded with the log cabin and newly constructed house.
"Country Place landscape design demanded careful attention to detail, concern for proportion and scale, clear spatial organization, and a harmonious relationship between plan and planting – all elements in which Gillette excelled," wrote George C. Longest. "His genius lay in his adaptation of traditional forms and styles to the requirements of the Virginia climate and countryside."
Cummer Gardens – Jacksonville, Florida
As part of the Cummer Museum of Art & Gardens, Cummer Gardens consists of 1.45 acres between the St. Johns River and the museum. The garden features the work of four different landscape designers and firms over the years. The English Garden was originally created by Michigan-based Ossian C. Simonds in 1903. In 1910, Philadelphian Thomas Meehan & Sons were brought in. Later on, Ellen Biddle Shipman from New York and the Olmsted Brothers firm in Massachusetts both contributed to the garden as well.
Halprin Open Space Sequence – Portland, Oregon
The Halprin Open Space Sequence was constructed from 1966 to 1970 and is one of the largest and most complex public plaza projects landscape architect Lawrence Halprin took on.
"The Portland fountains are known worldwide," said Kenneth Helphand, Knight professor emeritus of landscape architecture at the University of Oregon. "It would not overstate the case to say that they have been a pilgrimage site for design professionals, for they changed the concept of the urban fountain and were the catalyst for a revivification of fountain and urban open space design."
Hakone Historic District – Saratoga, California
The Hakone Historic District was established in 1915 and features a series of Japanese-style gardens over 18 acres. Philanthropist Isabel Stine hired landscape architect Naoharu Aihara to design a Japanese Edo period country villa with gardens. Plants and garden features were imported from Japan and Japanese craftsmen were hired to construct the gardens. Later generations of Japanese landscape architects would add their touches to the space over time.