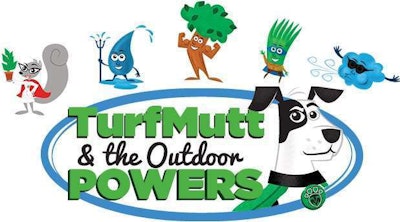 Remember watching Saturday morning cartoons? My days of doing that go all the way back to a time when breakfast cereals actually used the word "sugar" in their names. The dreaded word was replaced by "corn" or "honey" eventually.
You may want to take a moment to check out a cartoon this Saturday called "Lucky Dog." It's part of the "CBS Dream Team" programming, so you'll need to check your local CBS affiliate for the time.
I'm pointing you to the show because this Saturday's episode will feature a visit with TurfMutt and the Outdoor Powers, an environmental stewardship program created by the Education and Research Foundation of the Outdoor Power Equipment Institute (OPEI).
OPEI's president and CEO, Kris Kiser, appears in the episode. Kiser's dog, a rescue he named Lucky, became the model for TurfMutt.
OPEI's TurfMutt initiative, in which the organization now works closely with Scholastic, a producer of books and many other educational materials, is looking more astute by the day. A severe and lingering drought in several parts of the country appears to be kindling a war on grass lawns, and such misbegotten enthusiasms have a way of drowning out common sense.
You can rest assured that neither OPEI nor Scholastic is looking to recruit kids to take sides in a public policy dispute. They're simply sharing important facts about the benefits of living landscapes.
Unfortunately, examples of non-living landscapes – "yards" that now consist of gravel or a mulch-like material rather than grass – have exploded on the West Coast, which paid homeowners attractive incentives to replace their lawns. State officials in California will tell you that plan didn't work out as they had hoped.
What TurfMutt hopes to accomplish on the "Lucky Dog" program is to provide basic education on the importance of trees, shrubs and, yes, grass, to the health of our environment, habitat for plants and animals (including pollinators) and the quality of life of the human beings living on a given patch of ground.
Reducing heat, sequestering carbon while creating oxygen, inhibiting stormwater runoff and slowing erosion – these are just a few of the benefits of maintaining living landscapes.
OPEI's Kiser – and TurfMutt, too, for that matter – will be the first to acknowledge that water is precious. Choosing the right grass for your area can make a huge difference in the amount of water it needs. So can modern irrigation technologies such as drip irrigation.
I hope our kids are watching on Saturday when great ideas about conservation include the idea that conserving a place for children (and pets) to play makes a lot more sense than replacing lawns with giant piles of pea gravel.
David Rountree is the editor of Total Landscape Care.