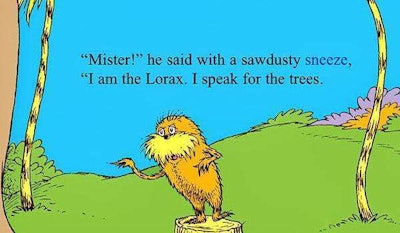 If you grew up reading Dr. Seuss books, then you are probably familiar with The Lorax and its environmentally conscious tone. One California city has taken its message quite literally.
The Encinitas City Council voted to hire a "Lorax," so to speak, to provide a voice for the city's trees. It plans to use the leftover $50,000 in a Public Works Department account to pay for a professional arborist on a part-time, contractual basis.
It has also formed a volunteer advisory group, the Urban Forest Advisory Committee, which is composed of individuals with experience with urban tree situations. It will examine city policies and make suggestions.
This concern over the city's trees was recently brought to light when the proposal to remove four ficus trees from the downtown area resulted in serious contention.
Residents formed a "save-the-trees" group and lobbied for city officials to reconsider. The trees were instead heavily pruned and that as well sparked dissension.
The downtown ficuses aren't the first controversy when it comes to disputed trees. The removal of an ancient and immense eucalyptus tree near the railroad in Leucadia has be debated for years. One tree-sitter lived in a tree in Orpheus Park for a week in a failed attempt to save it from the ax in 2009.
Former Councilwoman Lisa Shaffer led the subcommittee that proposed the tree advocate position and helped draft revisions to the city's tree policy.
Due to the fact multiple city departments deal with tree matters, Shaffer noticed there was no one person to speak for the trees. While the Parks & Recreation Department takes care of tree issues in city parks, the city planners handle them on proposed development sites and Public Works employees decide when trees need to be removed for street widening projects.
"You need some neutral, objective person who can offer the trees' perspective and isn't advocating for a particular project," she told The San Diego Union-Tribune.
The purpose of the tree advocate is solely to offer advice and recommendations on city-owned trees as well as city-designated "heritage trees." The "Lorax" will not trim or remove trees to avoid financial conflicts.
The tree advocate's first job will be handling the downtown ficus issue and will continue to work on a contractual basis until June 2017. If deemed successful, the city has reported it might become a part of city staff employee's job.