The dog days of summer are here and your clients can be looking for any form of escape from the sultry heat, and one traditional solution is the backyard swimming pool.
Swimming pools have been used since ancient Greek and Roman times and residential pools have been popular in the United States since the end of World War II. While there are always the common kidney-shaped pools that have been around since 1948, pool design has come a long way from then. Here are seven of the popular designs that are trending right now.
Infinity edge
Infinity edge pools, also called vanishing edge pools, are a popular design thanks to their wow factor of seeming to extend infinitely to the horizon. The pool has one or more exposed wall that is a fraction of an inch shorter than the water level, so the water flows into a catch basin below and is recycled back into the pool.
Ideal for homes that have breathtaking vistas or bodies of water nearby, this type of pool is no easy feat. Because it is a structural and mechanical wonder, architects and engineers will need to be involved to design the foundation and catch basin.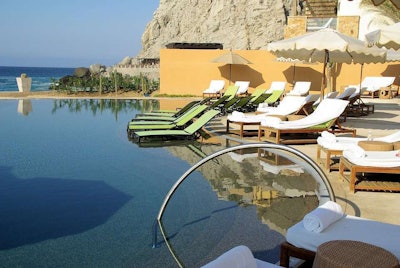 Lounging ledge
Another pool feature that has several different names, a lounging ledge is also called a tanning ledge or a Baja shelf. Designed to provide loungers with a few cool inches of water to enjoy as they soak up the sun, tanning ledges are effectively a second oversized step down into the main pool. Chaise lounges are ideal here and little ones can also safely enjoy this portion of the pool.
This feature can fit into just about any pool design, but it is best to work with a custom concrete pool if your client wants to have one of these shelves. Bubblers and built-in umbrella sleeves are add-ons that your customer can consider including with their Baja shelf. Lounging ledges tend to range from 5 feet 6 inches by 12 feet to 8 feet 10 inches by 18 feet 1 inch. Their depth varies from 6 to 12 inches, with 10 inches being a popular depth.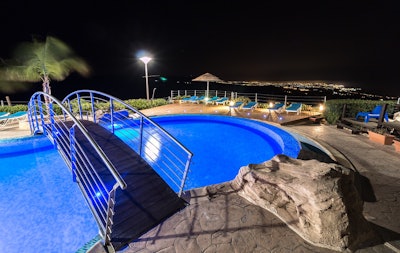 Bridges and islands
It's common to see more elaborate swimming pools with a separated section that may be a hot tub or just a decorative water feature, but the newest trend is to have a dry portion in the middle of the pool. This can be more of a traditional island with a table and chairs or a sunken conservation pit.
These islands can be as simple as having some seating and cushions or extravagant as having a complete sunken fire pit, depending on how your client is wanting to use the area. Bridges naturally must be included to reach these islands and you need to discuss with your customer how noticeable they want these connections to be and whether swimmers can pass beneath them.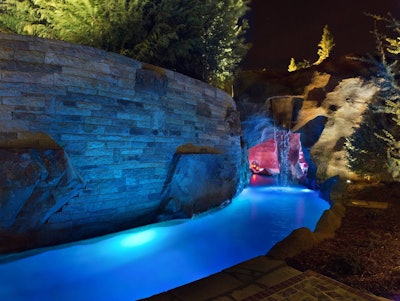 Lazy river
Lazy rivers seem like a feature that can only be found at water parks, but they can indeed be installed in the residential setting if your client has a flexible budget and enough space. Some of the factors to consider when discussing a lazy river with your client are the speed and dimensions of the pool.
Depending on whether they want it to be classy or adventurous will determine some of the design aspects of the lazy river. As for actually achieving the river current, many designers/builders are using the Riverflow System from Current Systems to produce an energy-efficient flow of water.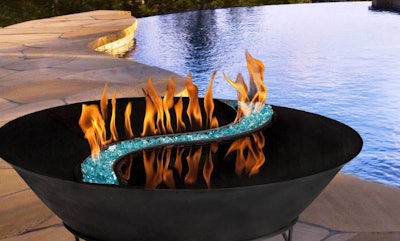 Fire and water
The blending of the elements fire and water has been growing in popularity and the design possibilities vary from fire pits, fire bowls and all other fire features in between. They can help warm chilly nights and provide some fantastic atmosphere to your customer's pool party.
Depending on your customer's wants and personal tastes, fire can be incorporated into the swimming pool in a number of different ways. Most fire and water features allow the pool owner to choose to run the two simultaneously or separately.
LED lighting
Pool lighting has come a long way from the basic incandescent lighting that was used for practical purposes alone. Now homeowners can use LED lighting to transform their pool into any shade of the rainbow they desire.
LED lighting uses less power but provides bright illumination. They are commonly used for customization for certain occasions.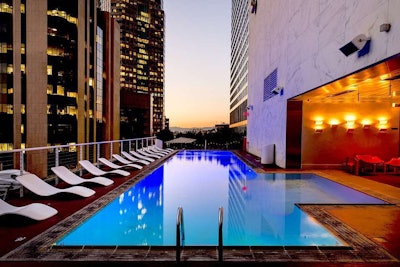 Traditional rectangle
For modern or contemporary style homes, customers cannot go wrong with a rectangular pool as it provides an appealing symmetry. This shape will never go out of style and is ideal for those homeowners wanting to use their pool for fitness more than festivities.
To avoid looking to bland, landscaping and surrounding hardscaping will help provide the visual interest.