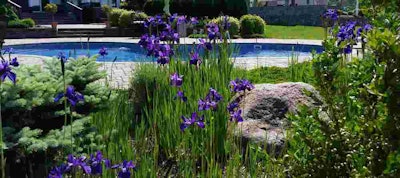 In the heat of the summer, a refreshing dip in the pool sounds heavenly, but even a pool can look more like a desert when it is stranded by a swath of hot concrete.
If your client is wanting to turn their pool area into a lush oasis surrounded by plant life, the task can be easier said than done because not just any flora will be up to the task. Swimming pools tend to create a microclimate, raising humidity levels in warmer areas and intensifying the sun's rays.
These plants are also likely to get splashed by chlorine or salt water, depending on the type of pool.
Some of the considerations to keep in mind when selecting poolside plantings for your clients are the ease of maintenance, privacy, fragrance, color, texture, the theme of the existing landscaping, along with other elements.
A major consideration is minding the amount of leaf-drop a plant produces, as this will lead to fewer headaches from pool cleaning.
Succulents
A leaf shed-free option that loves the heat are succulents that come with many different architectural shapes. Agave is an example of succulent that looks good year-round with minimal care and can handle occasional splashes well. It can grow to 5 feet tall, providing some height to the space.
Succulents like Nelson's blue bear grass and blue chalk sticks have interesting forms that can be planted along a poolside for interesting reflections on the water. Be mindful not to select any varieties that feature spines, thorns or needles, to avoid accidents. For those like Sempervivum and Dudleya that have smaller spines, these can be planted farther back in a border or flower bed.
Ornamental grasses
Another low-maintenance option is to utilize ornamental grasses around the space. These can be planted in rows or repeated patterns for more formal and minimalist landscapes, but they also work well with a naturalist design by interspersing different species in clumps.
Like certain succulents, upright ornamental grasses can create dynamic reflections against the water if they are placed in the right locations. Most grasses have the added benefit of changing colors with the season and they can offer screening if planted closer together.
For flowy, airy options, both fountain grass and feather grass work well, while lemongrass and zebra grass can serve as reliable greenery. Japanese blood grass and Phormium have more dramatic foliage for those looking for some extra color.
Tropical plants
Clients wanting to create a true paradise can turn to tropical plants, but the majority of these plants will only thrive if the homeowner actually lives in an area within the USDA Hardiness Zones of 9 to 11.
Philodendron boasts of large glossy leaves commonly associated with the tropics, while a bird of paradise has showy blooms and loves soaking in the sun. Hibiscus and canna are other options for tropical plants with bright flowers. Palm trees are another obvious option for an exotic-looking poolside.
Trees
Choosing trees to go near a pool is a tricky business, as you must find species that have minimal leaf drop and are not messy, have shallow root systems and won't block the view when fully grown. While those in sub-tropical and tropical climates get the luxury of using palm trees, others are more limited and will have to compromise in some cases.
Japanese maples and fruitless olive trees are both slow growers and visually appealing. For those in arid regions, they can also plant a Palo Verde tree, which is drought tolerant and has beautiful yellow spring blossoms.
What not to plant
The main reason most of the plants are listed below is due to their messy nature. If your clients constantly asking for low-maintenance plants hasn't clued you in, people don't want to do more work than they have to.
If after a long day of work they come home for a swim and find they have to clean the pool again, making it the fourth time in a week, they will become frustrated and unlikely to use their pool as often as they would like.
Plants with thorns, as mentioned before, should be omitted. Landscapers should be wary of plants with small flowers, as these can slip through a skimmer. Acacia, azaleas, bougainvillea and crape myrtles are just a handful of the plants that can drop flowers that will become a considerable hassle.
"The little, tiny flowers fill the pool surface with brightly colored debris," Brian Alan Shirley, owner of Abracadabra Pool Technologies in Decatur, Georgia, told The Spruce. "It clogs the skimmers and when it sinks and it's so small a pressure-side cleaner won't pick it up most of the time."
Cherry, plum and tulip trees are more of the same, dropping flowers and fruits frequently.