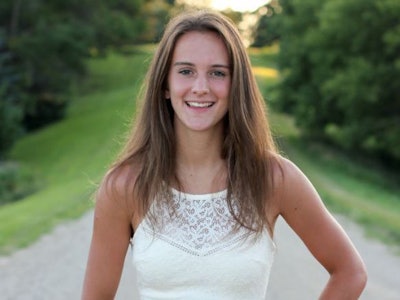 Total Landscape Care has selected Tess Steiner as the winner of the fall 2019 TLC Scholarship Contest.
Steiner is a sophomore majoring in landscape design and horticulture technology at Southeast Technical Institute in Sioux Falls, South Dakota. She will be awarded $2,500, which will be paid to her college on her behalf.
"For me, it is a great benefit in helping me go to college and achieve my goal of being able to gradate without any debt," she says.
Steiner has been working her way through college, both as way to remain debt free when she graduates as well as to gain experience in the landscaping industry. She has worked as a landscape technician and an assistant horticulturist recently. She says has gained skills in maintenance, plant health care, nursery production and landscape installation.
Her favorite job in the field so far was her position this summer with a landscaping company in Connecticut, where she was able to work on the design side of things.
"I got to see all the parts I didn't get to see before like estimating, bidding, actually drawing up designs and getting the real-life experience meeting clients and trying to satisfy their needs and wants," Steiner says.
When it came to choosing a college, Steiner says she wanted to stay in close proximity to home and had to decide between South Dakota State University and Southeast Technical Institute.
"I chose the two-year program because I wanted to get my two-year degree for my education and then get the rest of my experience out in the field working because I believe that job training is a very valuable experience and I believe that was more important to me than having four years of school," she says.
Originally, Steiner considered majoring in mechanical engineering but didn't want to be stuck behind a desk all day so she decided that landscape design would be a good mixture of her love for the outdoors and drafting.
"The most challenging part of my education this far has been learning all of the plant material and its requirements," Steiner says. "The main challenge with this has been continuing to retain that information in order to use it for my future career in landscape design. Plant material isn't just something that I need to learn to get a good grade on a test. It is something that can make or break a design. I need to be knowledgeable in this area due to the relevance it has in any landscape."
The design work has come easily to Steiner, thanks to her previous experience in drafting.
"I would say my favorite part about landscaping is being able to start a project from initial design and meeting with clients to the finished project," Steiner says. "To have the satisfaction of taking something that may not have very much beauty and give the customer the ability to enjoy the outdoors with their family and friends."
Steiner has been a student member of the National Association of Landscape Professionals (NALP) for a year and is looking forward to competing in the National Collegiate Landscape Competition (NCLC) again next spring.
She competed this March at Colorado State University in Fort Collins, Colorado, in four events: hardscape installation, landscape plant installation, wood construction and annual & perennial identification.
"It's amazing to see the networking that is available with organizations like NALP," she says. "The industry support that we have for education is amazing. It's been a really good experience."
Steiner says she has decided to specialize in residential landscape design and plans to work for a local landscape design/build company after graduating. She says she hopes to advance in the field and eventually be a lead landscape designer for a landscaping company.
For those interested in applying for the spring 2020 semester scholarship of $2,500, click here to fill out your application by Nov. 13.