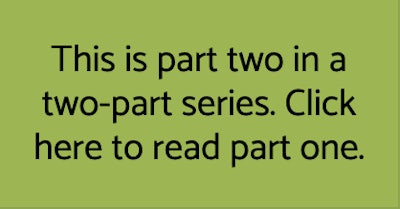 The Greenery, Inc., based on Hilton Head Island, South Carolina, reached $65 million in revenue last year and they credit their year after year success to their three-step initiative: safety, quality and production.
This three-step process follows in that exact order, with the landscaping company putting safety before everything else. While many may pay lip service to safety being important, The Greenery truly walks the walk when it comes to putting safety first.
"If we do things safely, the productivity will follow," says Jerry Ashmore, director of workforce development & safety.
A culture of safety
Each morning as crews arrive for dispatch, they warm up by taking the time to stretch as a group. Ashmore says the company has been stretching for six years now after noticing the majority of their workers' injuries were from strains.
Ashmore says crews felt silly at first, but The Greenery continued to stress the importance of doing it every day. They also encourage workers to stretch throughout the day as well. From time to time, the company has a doctor visit to ensure they are stretching properly.
On Tuesdays, safety representatives at each of the 13 branches go over a safety topic that is pertinent to the season. Employees sign in to show they attended the safety talk for that week. Each month there is a quiz on the safety topics as well.
Ashmore selects the topics that will be discussed each week. One of the recent topics The Greenery covered was severe weather driving and what to do in specific situations.
After stretching, the crews check their trailers prior to heading out and are reminded to drink plenty of water throughout the day. Supervisors stand by the exit gate and check the trucks as they depart. As the employees leave, supervisors take the time to encourage them, telling them to have a good day and saying, "We appreciate you. We appreciate what you do."
The Greenery provides safety glasses, earplugs and vests for their workers and crew members are required to wear khaki pants and work boots. Field operations manager Allan Klingel says they will send workers home if they show up in jeans or tennis shoes.
The company sets goals of how many days they can work accident free. According to Klingel, the most number accident free days The Greenery has had is 243 days and 120 to 140 days is a normal average for them.
"Our No. 1 priority is for our workers to leave with 10 fingers and 10 toes," says Matthew Touw, operations manager. "If everyone goes home safe, then we've done our job."
The Greenery makes a point to not let any safety issue slide. Whether it's an employee wearing their safety glasses on their head, a worker using headphones rather than earplugs or a crew member forgetting to wear their seatbelt in a UTV, managers make a point to call them out on it.
Touw says he will even sometimes purposely violate a safety policy by not wearing his vest or some other piece of personal protection equipment to see if workers will call him out on it.
"Everybody in the company is in power to write somebody up, whether it's me or somebody working in the field," says Bill Davoli, COO. "If someone is not following the safety protocol, our expectation is you will call them out and write them up on it. We're very adamant about everybody's responsible for reporting our safety policy."
Often, if employees are constantly reminded or given warnings about not following the company's safety protocol, they do not last very long.
Safety is talked about from day one and during the onboarding process, new employees are given training on how to safely operate equipment.
"We found when we didn't train them properly, they couldn't do their job properly," says Jim van Dijk, regional manager of the Hilton Head Island branch.
In the onboarding process, van Dijk says employees get certified to operate certain pieces of equipment and everything is covered from what gate to enter to the importance of wearing a safety vest.
Each branch also has a safety scorecard, which Davoli and Ashmore go over every month.
"It's based on the number of incidents over 200,000 man-hours," Davoli says. "There's a factor in there that we consider be acceptable."
The Greenery's commitment to safety has also been recognized by the National Association of Landscape Professionals (NALP), winning safety awards since 2013.
Ensuring quality
Once The Greenery has ensured that each job is being completed safely, they then focus on making sure they are either meeting or exceeding the expectations of their clients.
The Greenery has a 90 to 95 percent retention rate with their customers and this is achieved through several methods.
One way the company ensures quality is by being in constant contact with customers. Account managers make sure to communicate with clients to find out their wants and needs and share these with crew leaders.
Because 80 percent of The Greenery's clients are not residing on their Hilton Head property all the time, the company makes a point to be proactive and take care of issues before a customer calls.
"We're here to look after their properties," Touw says.
When account managers or any other Greenery employee is on a property and sees an issue, they take the time to document it and pass the information on so it can be handled.
"It is everyone's job to offer suggestions that will improve the overall quality of life for the client," van Dijk says.
Quality is also achieved simply by being courteous.
"If the homeowner is in their yard, you go up to them and you smile, and say, 'Hey, how you doing today? You have any issues?' and you don't need to be best friends with them, but you're part of that experience," says Lee Edwards, president and CEO. "If you're just mowing and blowing as fast as you can, they're going to be more likely to be like, 'Oh, hey, you missed that over there.' rather than 'Man, that guy has great attitude.'"
By providing excellent quality, The Greenery can retain the vast majority of their customers and generate positive word of mouth, which provides new customers as well.
Efficient production
The Greenery's third tenet is production, and this is the focus on doing things efficiently as possible. The company recently noticed that it was behind with technology and has been trying to ramp things up over the past two years.
One major change The Greenery is planning on rolling out Aug. 1 is the implementation of Aspire's landscape business software. With Aspire, The Greenery will be able to track its fleet, create job estimates, handle accounting and more all through one platform.
"It has been a huge undertaking for our director of development and technology and so she's been working on that for six months," Davoli says.
The company has also been providing Surface Pros for account managers out in the field.
On the equipment side of things, The Greenery operates battery-powered handheld tools in the mornings when maintaining the Marriott properties and Harbour Town so they can continue working before 9 a.m.
"Then we've got our performance-based technology that we're rolling out, we bought the dealership for Husqvarna robotic mowers," Davoli says. "So, we've got a large initial rollout of about 20 units coming up this quarter to start deploying robotic mowers. My hope is to deploy 20, at least, per quarter for a while."
Davoli says he sees the biggest application of the robotic mowers in the commercial market and it will help take the labor demand off certain jobs. Touw is excited for the addition of the robotic mowers as they will free up the crews to focus more on the detail work.