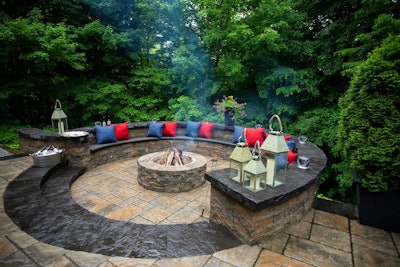 Kingstowne Lawn & Landscape
Adding a fire pit can be an exciting addition to a landscape. It helps to create a space where family and friends can make memories while enjoying more time outdoors. Whether it's roasting marshmallows with the kids or just gathering around the fire for some warmth on a chilly night, a fire pit helps to make a backyard landscape a destination.
When adding a fire pit, a key question that your clients will be faced with is wood or gas. You can help your clients to choose which option is best for them by weighing the pros and cons.
Krisjan Berzins, the owner of Kingstowne Lawn & Landscape, based in Alexandria, Virginia, says that it's important to remember what may be a "pro" to one client could be a "con," to another. This makes it critical that you discuss your client's wants and needs and expectations.
Determining client wants and needs


For many homeowners, their interest in a fire pit may have stemmed from a campfire experience. For these clients, the smell and even the sound of real-burning wood are all part of the appeal.
"Many of these clients would even say that building the fire is something that they enjoy," says Berzins. "If they live on a wooded property, they might even have access to a lot of their own firewood and anticipate that gathering it will all be part of the experience."
But for other homeowners, the process of having to build a fire—including finding the wood—may seem like a time-consuming task. They just want the ease of use of a gas-powered fire pit where they don't have to buy or find wood or build a fire. They may also not want to have to deal with the hassle of storing extra wood in between fires.
"With a wood-burning fire, there is also going to be smoke," adds Berzins. "That is what creates the distinct aroma that some clients appreciate. But others are more concerned about smoke blowing in their face or being a hassle. In those cases, we would direct clients toward a gas-powered fire pit."
Berzins says that a gas-powdered fit pit is all about convenience. At the push of a button, you can have an instant fire. There is no need to "tend" to the fire to keep it going as there would be with a real-wood fire. There is also no need to watch the fire safely burn out. It will shut off as quickly as it came on.
Of course, Berzins adds that gas isn't easily accessible to every client. If they already have gas services in their home, a dedicated line can simply be run for the new fire pit. But this won't be the case for everyone.
Other fire pit considerations
While it's an important consideration, deciding between wood vs. gas is only one of many decisions that will need to be made in regard to a new fire pit. Others include the design of the fire pit (size and shape), what seating around it will be like, and even where within the landscape design it will be situated. Each of these decisions can impact the overall use and enjoyment of the fire pit so it's important to guide the client toward what will work best for their property.
For instance, if the client is choosing a wood-burning fire pit, you'll want to consider the primary direction that the wind blows on that property in determining where you'll situate the fire pit. It also needs to flow well within the landscape design as a whole. Oftentimes, a fire pit works well in a "bump-out" section of the patio so that it doesn't impede traffic flow.
In terms of seating, you'll want to talk to clients about whether they plan to bring in furniture or if they might be interested in built-in seating. Building a rounded retaining wall around a circular fire pit can add a cozy seating area.
As with any project, Berzins says it boils down to a balance of what the client wants as well as what's possible on their site. At the end of the day, the goal is always to leave the client happy with their results.
"A fire pit can be a great addition to a landscape, and we want the homeowners we work with to be able to enjoy these features to the fullest," Berzins adds. "The key is working closely with them in the design process."