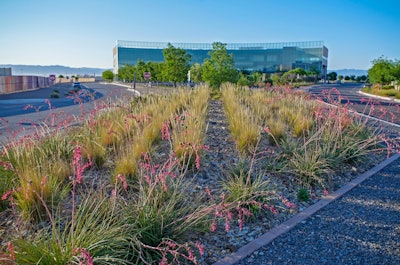 Yellowstone Landscape
Clients want beautiful landscaping, but they don't necessarily want to have to care for it all of the time. Choosing plant material that doesn't require a lot of extra watering can help give clients a lower-maintenance landscape that still looks great.
At Yellowstone Landscape, a national commercial landscaping company headquartered in Bunnell, Florida, using native plant material is not only a common practice, but it's also a necessary one. Some of the company's locations—such as Dallas, Texas, and Phoenix, Arizona—have a high potential for drought and ongoing water restrictions.
Drought-tolerant plants can add a great look to a client's landscaping, says Joseph Barnes, marketing director for the company
"When you bring up the words 'drought-tolerant,' it conjures images of cacti and succulents," he says. "But in actuality, there are many drought-tolerant plants that look great and don't use an excessive amount of water. The key is having team members who have extensive horticultural knowledge and a great eye for design."
Making appealing selections
There are plenty of choices that are colorful and add interesting texture and appeal to the landscape. Native plants—those that are naturally adapted to the region—are typically drought-tolerant choices. These plants have already adapted to the local conditions, including the amount of natural rainfall. An added bonus is that native plants also tend to be disease-resistant and pest-resistant, too.
"In general, native plant choices tend to need less care to continue to look and perform their best," Barnes says. "That also means they'll need less fertilizing and pruning. Clients like that these choices mean not only the conservation of water but also less care. That means saving money."
As far as what specific plants will work best, this is going to vary by region. In the Southwest, Yellowstone is often using Yellow Lantana, which has bright yellow blooms; Liriope, which has ribbon-like leaves and purple blooms; and Red Yucca, which is known for its blazing red hue. These are just three examples of many that can add to an attractive landscape.
Choosing wisely
"It comes down to knowing what is going to look and function the best on each client's property," Barnes adds. "Even with native or drought-tolerant choices, choosing the right plant for the right place is critical when it comes to the success of a landscape. An eye for design is also important as the plants have to look great when grouped together. Making the best choices is important to the aesthetics and the overall performance of the landscape."