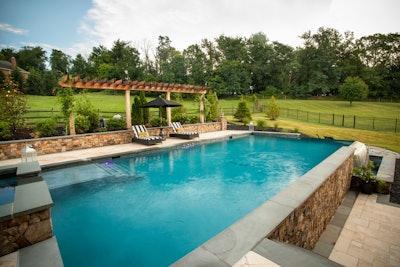 Rock Water Farm
These days there are more choices than ever when it comes to swimming pool design options. The same goes for the pool bottom. One decision that your clients will have to make is dark-bottomed vs. light-bottomed colors. While your clients might assume their only option is "blue," in reality, there is more to the choice than that. Even the shades of blue can vary, making the water have different appearances depending on what your clients choose. While a lot of that comes down to their personal preferences, you can guide your clients toward a choice that is best for them.
There is a scientific reason why large bodies of water look blue (including pools), even when the bottom is actually white. This is because the water molecules slightly absorb light from the sun. Although sunlight is made up of all the colors of the spectrum, the water absorbs light from the red end, removing it and reflecting a blue hue. Pool designers often take that already-blue look and enhance it even further with blue tile and plaster.
But you can play around with the colors making water look aqua, turquoise, dark blue, or even black, with black plaster.
Fitting the surroundings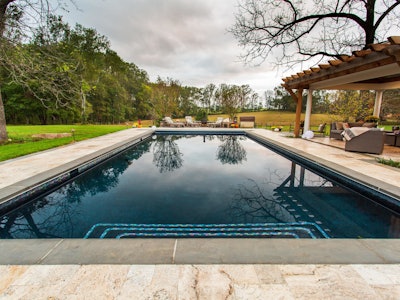 Todd Thomasson, owner of Rock Water Farm in Aldie, Virginia designs and builds custom gunite pools. He says that considering the surrounding landscape is key in deciding the best pool bottom color. That's because it's important that the pool "fits" with the surrounding area.
A pool with a black bottom will have more of the look of a lake or a lagoon, which might be a better fit for a country surrounding than a turquoise blue pool that looks tropical.
Thomasson says that there can be a lot of variation in how dark you go. There are deeper shades of blue that will give you a more sophisticated look without going too dark. As with any choice, there are pros and cons. Besides the look, Thomasson says that another benefit of a dark-bottomed pool is that some clients have said they stay a little warmer for longer. This would be because a darker color absorbs more sunlight and retains more heat. But this alone should not be a reason for your clients to choose a dark bottom pool as the difference might be subtle.
In the end, it really should come down to what fits your client's space the best.
"A light bottom pool can have a clean, crisp look that looks refreshing," says Thomasson. "The whole idea is to inspire people to spend more time outside in their outdoor living space, so you want your client to choose a color that works in their space."
Other considerations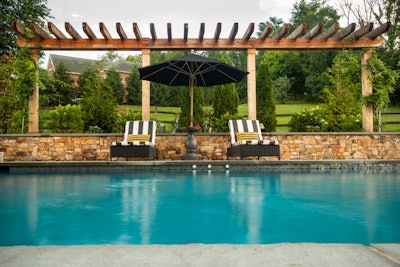 Another major factor that can affect pool color is the amount of light your client's property receives. If it's a heavily shaded property, the pool is going to naturally look darker simply because it's not receiving as much sunlight.
Obviously, the weather plays into things, too. A pool will look different on a bright and sunny day than it does on a dark and cloudy one.
While you can't control the weather, if your client does have a shaded property, they might want to factor that into their pool bottom color choice. Along with that, the depth of the water will impact color, too. The deeper the pool, the darker the color will be. This is also the reason that the deep-end and shallow-end of a pool almost appear to be different colors.
At the end of the day, you want to know that your client has made a choice that they're happy with for the long run. A swimming pool is no small investment for your clients, so it's important that you guide them to the best choice.