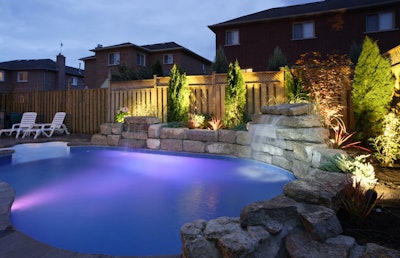 Getty Images
Lighting is a critical part of any home, especially on the exterior. Illuminating your client's landscape is both practical and aesthetically pleasing, providing a clear path and transforming an outdoor space from drab and dark to classy and bright.
Residential landscape lighting design can bring new value to a home in so many different ways. In this article, we'll cover some of the benefits of landscape lighting that you can go over with your clients as well as the different types of landscape lighting.
Benefits & uses of landscape lighting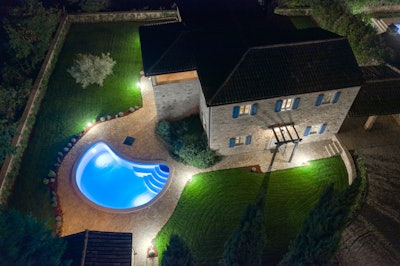 There are many benefits to adding lights to your clients' properties. Helping your clients to understand these benefits will help to sell them on landscape lighting. Here are some benefits that you can share.
1. Stand out from your neighbors
Lighting adds a unique aspect to a home or business that can make you stand out, especially at night. It's important to make sure people can see your house, driveway, storefront, or sidewalk at all times of the day or night.
2. Make the architectural features pop
Have a feature you'd like to show off, such as a garden or fountain? Lighting can subdue surrounding elements and make the main features pop.
3. Provide an extra layer of security
Whether for your home or business, lights provide safety and serve as a guide to the driveway, sidewalk, or parking lot. If they are motion sensored, they can also alert you to people or animals who approach your area.
4. Increase your home's value
Prospective homeowners often look at the landscape to see how well-lit a house is. Landscape lighting is a desirable aspect of homes and can increase your home's value.
Types of landscape lighting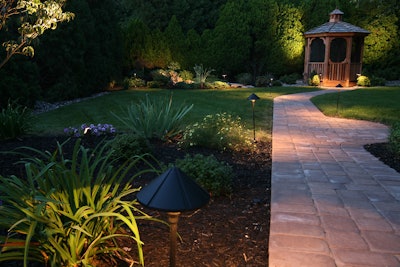 Each home looks good with a different type of lighting—and the options are quite varied.
Comparing the pros and cons of different types in relation to your client's home and landscape can help you choose the perfect lighting.
1. Yellow light vs. white light
This may seem obvious, but lights come in different colors, often based on their type such as LED, halogen, etc. Not every color goes with every landscape, so it's important to look at the colors of your house and yard and possibly test out some lights before making a final decision.
2. Motion sensor vs. manual
When considering the placement of outdoor lights, you may want to consider whether they should be motion sensored or not. Motion sensors save energy by only turning on when they detect movement. However, if your clients need an important part of their house or storefront lit up at all times (such as a set of stairs or a business awning), manually turning on the lights would be a better option.
You can also program most outdoor lights to go on and off at a certain time. Light timers are easy to install and can save you the trouble of turning the lights on manually.
3. Solar powered vs. wired
Whether or not your clients have solar panels on your roof, your outdoor lights can be solar-powered or wired. Many individual types of lighting can be powered by the sun, charging up during the day to brighten the night. While using solar-powered lights may reflect positively on your client's electrical bill, it's entirely your client's preference which option makes the most sense.
4. Weather-proof Lights
Weather-proof and winter-proof lights are durable and ensure that your client's lights are protected during all seasons and last longer.
5. Spotlights vs. floodlights
Spotlights and floodlights are similar, but with a key difference in beam spread. Spotlights have a narrower beam of light, while floodlights have a wider beam. If you want to highlight a specific area of your landscape, spotlights are the way to go. Conversely, floodlights are better for lighting up a general area, such as a driveway.
6. Outdoor post lights vs. path lights
Post lights and outdoor lamp fixtures help illuminate paths without the strength of floodlights or other types. Instead, they accent the path, and their wide beams stretch over much of the path. This decreases the need for many lights. Path lights are the same as outdoor post lights but in a shorter and smaller version.
7. Inground lighting
Inground lights are installed directly into the ground, giving a more modern vibe than other types of lighting. They are typically circle-shaped and used to brighten up walkways and patios. While they're not good for highlighting specific display points, they pair well with spotlights in order to draw attention to certain aspects of your client's landscape.
8. Deck and step lights
Deck and step lights not only look appealing, but they also increase safety. They are installed directly into the decking or staircase, making them discreet yet essential.
9. Pond lights
If you have a water fixture you want to illuminate, pond lights are the way to go. Embedded in the water itself, these lights add a cool ambiance to any landscape.
10. Hardscape lights
Relatively new to the landscape lighting scene, hardscape lights use LED technology that can wash or graze walls with light. They are less intense than other types of lighting but no less aesthetically pleasing.
In addition to these types of light, there are different methods you can use to illuminate your client's landscape. Up Lighting, Silhouette Lighting, and Shadow Lighting are a few methods to brighten certain aspects of your home or yard, generally with the help of spotlights or inground lights.
Up-Lighting is used as an accent to architectural features and is usually installed in the ground, a deck, or a staircase.
Silhouette Lighting highlights dramatic features, using a light placed behind the feature and aimed toward the main vantage point to create a silhouette effect.
Shadow Lighting is the opposite of silhouetting, which means the light must be placed between the feature you want to highlight and the main vantage point, with the light aimed at the feature. This best works when there is a wall or flat surface behind the feature being lit.
Making smart lighting choices
By using different types of lights, you can illuminate trees, gardens, the front of your client's home, driveway, and patio or backyard. If you're installing lights in a more commercialized area, such as in front of a business, you can also consider lighting up the sidewalk and parking lot.
By making wise choices for your clients' lighting projects, you can not only boost aesthetic appeal but security, as well.