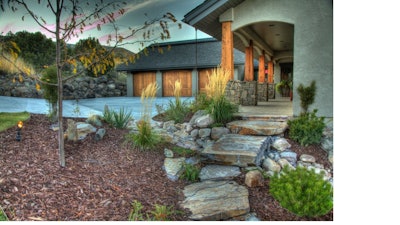 Outback Landscape
We're noticing some exciting landscape design trends of 2023. Here are four that our clients are requesting.
1. Water-conscious landscaping
Many Outback clients are originally from California, where water is an especially precious commodity, says Kirk Jeppesen, Outback landscape designer. So, they want landscaping that doesn't need much water. But even native Idahoans know saving water isn't just trendy — it's smart and essential as we care for the natural world around us.
Some of the most popular landscape design trends of 2023 are the smartest, too:
Native plants: They thrive without extra water.
Sparse plantings: Skip lush and luxurious plant-packed gardens. A few dramatic, low-maintenance plants can make a stunning impact.
Minimal lawn: Less watering and less mowing.
Large boulders: They add drama and impact with no maintenance.
2. Fun and functional entertainment space
Our clients live in Idaho and that usually means they love the outdoors. So, they want to spend every minute they can outside.
Function is huge, says Kim Rubert, Outback landscape designer. It's the first thing Rubert starts asking about when she sits down with a new customer to talk about their landscape design: How do you live? What do you like to do? Do you entertain a lot?
Expansive patios are great multi-taskers, allowing space for all kinds of entertaining, from boisterous weekend cookouts to quiet morning coffee and yoga to romantic wine dates beneath the stars.
Top landscape design trends to add to your fun and functional patio:
A fireplace or fire pit. Toasty, flickering flames offer the perfect gathering spot. They keep you cozy on a chilly night, extending the time you can enjoy beneath the stars. Stock up on marshmallows.
Outdoor kitchens, from a complete chef's kitchen that will have your neighbors shouting, "Yes, chef!" to a modest grill and bar.
Outdoor pizza ovens. Stash that takeout menu and sizzle up the perfect pie yourself, al fresco. Top it with fresh basil plucked from your patio pot. (See trend number 3.)
3. Eat your landscaping
Maybe don't munch on your thorny barberry or that holly with the spiky leaves. Ouch.
But how great would it be to snip fresh fragrant herbs to top your salads, pop fresh juicy raspberries in your mouth as you stroll past the garage, and mix up some salsa with pretty peppers fresh from the garden?
Add a couple of fruit trees for fun. Edible landscaping is among the tastiest Idaho landscaping trends, and many plants you'll love in your kitchen also look great in your landscaping.
4. Plants for pollinators
One of the most popular landscape design trends for 2023 involves helping our pollinator pals.
Bees, especially, are having a tough time out there, dying from a variety of factors—pesticides, drought, habitat destruction, air pollution, global warming and more.
Lucky for you, the plants pollinators love are great for your landscaping, too. They're typically native plants, which means they thrive with little care.
Here are a few beautiful pollinator plants:
Columbine will wow you with its delicate red and yellow bell-like flowers that hummingbirds and other pollinators love.
Coneflower is the ultimate easy-going plant, thriving in full sun as well as partial shade; attracting birds, bees and butterflies; and they come in a host of colors, from purple or pink to white, yellow, and orange.
Oregon grape, a low shrub with glossy, holly-like leaves, boasts yellow flowers in late spring and attractive dark blue berries