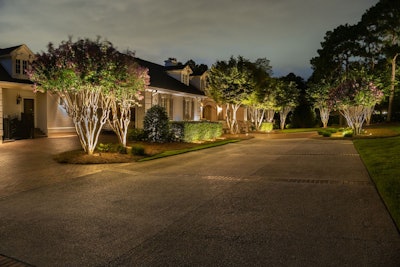 Grassperson
Landscape lighting can be both an attractive and functional addition to clients' properties. With the right lighting techniques, you can make their landscapes more aesthetically appealing as well as more usable. A great design is key to ensuring that the lighting is attractive and beneficial. Jack Moore, the owner of Grassperson Lawn and Landscape in Lewisville, Texas, says that one of the types of lighting they work into designs is tree lighting. Here are a few specific techniques that tend to work well.
Uplighting for trees
Moore says that uplighting a tree can have a dramatic effect on the tree's canopy. Using uplighting on a tree with a dense canopy can create appealing shapes and textures. But many different types of trees can benefit from uplighting. When you install a lighting fixture at the base of a tree and shine the light upwards, it can capture the beauty of its branches, leaves, and more. In fact, your clients' trees can take on a whole new look at nighttime. This is a great way to boost curb appeal.
Spotlighting a specimen tree
Sometimes clients have trees on their property that were planted to be a highlight of their yard. Often these are ornamental trees that really capture attention. These showpieces are the focal point during the day but can also be showcased at night with the right lighting. Shining a fixed light on a specimen tree to show it off at night can be a great way to boost curb appeal at your client's homes.
Downlighting trees for a moonlighting effect
While we often think of tree lighting in terms of showing off trees, there can be functional benefits to consider as well. When you mount the lights in the tree's canopy and shine it downward, you can light up an area in an aesthetically pleasing way, says Moore. It creates an effect that looks like moonlight.
This is a great way to light up an area that a client wants to make more functional at night. Instead of using path lights, you could light a walkway from above. This is both appealing and useful.
Wise lighting choices
These are just a few examples of ways that lighting can enhance a property. You'll want to consider what techniques will work best for your clients depending on what types of trees they have as well as what their goals are for a lighting project.
The bottom line? Making wise choices with lighting techniques can provide a lot of benefits to your clients and help them to love their properties even more.