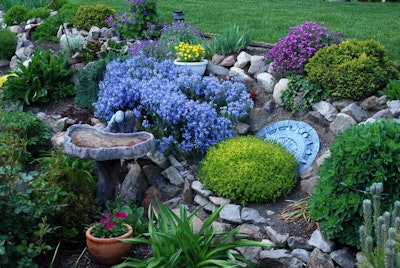 Planting on hillsides can prove challenging, but for customers who desire some plants and trees to cover those areas in their landscape, take a look at a few tips that might help simplify the process. There are solutions.
Soil, terraces, and berms
Before beginning the planting process, check the soil of your customer's hillside to see if there's a layer of rock underneath. If so, see if the rock looks stable or if it looks likely to crumble apart, as crumbling rock will damage the plants.
If you see that the hill has a fair amount of bare patches, there's a chance it may not be a suitable area for planting. Also, take notice of how much sunlight the hill will receive and whether or not the soil will drain properly.
Another important beginning step is to evaluate the pitch and runoff of the area. If the pitch is more than 30 degrees, it may be beneficial to create a terrace in the area to prevent topsoil erosion and moisture evaporation.
Creating terraces and berms can be beneficial when planting on a hillside. The terrace should be about three times the diameter of the plant's root ball, and it can be created by cutting into the hillside, building out the slope, which will require rocks or a retaining wall, or a combination of the two.
The slopes will be more stable the less you disturb the soil, and the finished terrace should be firm enough to allow you to stand on it while working. These terraces will provide stable places for roots to firmly grasp on and stay put. Consider stabilizing the terrace with stones or rocks to keep them from falling.
Having a berm present can also help hold water that runs down the slope. Be sure not to pile soil directly on the root ball but instead make a U shape around the plant.
To find out more about berms, click here.
Choosing plants
Now comes the part of the process where your customers can add in their opinions for plant choices, but be sure to come to the project with a few ideas in mind to present.
If your customer's hill is sandy and covered with shredded bark, it should be able to sustain perennials, bushes, trees and groundcovers. Don't be afraid to plant a variety on the hill, as this will create a more layered, thick look that can help reduce damage caused by rainfall.
To help keep erosion issues at bay, consider using a variety of creeping ground covers, as they are easy to plant and establish quickly. Avoid mixing vigorous varieties that will compete with each other. For this low-growing, creeping ground cover, the root systems should be planted in shallow holes, and keep in mind that they will be susceptible to displacement from heavy rains until the roots can fully establish themselves.
For evergreens, consider Blue Chip Juniper (Juniperus horizontalis 'Blue Chip') as an excellent choice. As a low-growing, cold-hardy variety, this plant will produce silver-blue foliage and takes on a plum-like color as the colder weather sets in. They are deer resistant and can grow to a foot tall and 6-8 feet wide. They need full sun and grow well in the USDA Hardiness Zones 3-9.
For flowering options, the Purple Queen Bougainvillea (Bougainvillea 'Moneth') can create a hillside full of color. This plant has deep purple blooms, is drought tolerant once it's established, and can grow 18 inches tall and 6-8 feet wide. They need full sun and grow well in the USDA Hardiness Zones 10-11.
For grasses, customers might enjoy the enticing look of the Elijah Blue Fescue (Festuca glauca 'Elijah Blue'). With its icy-blue color and needle-like blades, this dwarf-clumping variety can hold up well in the heat. Once it's established it is drought tolerant, and it's a fast grower in dense mounds. They need full sun and grow well in the USDA Hardiness Zones 4-11.
Finally, for a shrub choice, take a look at the Show Off Starlet Forsythia (Starlet Forsythia 'Minfor6' USPP 24,361). This will add a bright pop of yellow to the hillside and won't require pruning. This deer-resistant dwarf variety grows 24-26 inches tall and wide. They need full sun and grow well in the USDA Hardiness Zones 4-8.