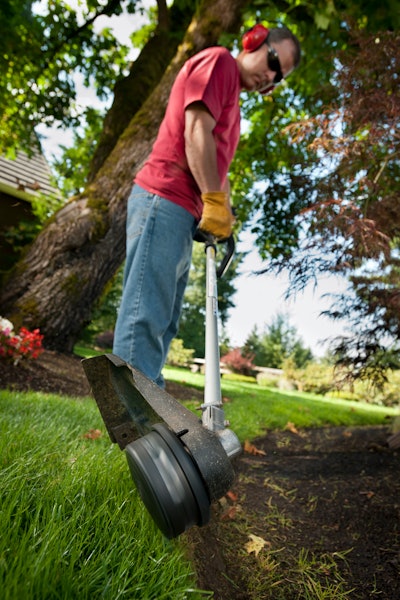 Oregon Products
As we near the end of the season, there are a few things to keep in mind when it comes to your mowers and trimmers. These tools are essential to your landscaping business, so you want to make sure they are cared for properly right up until it's time to give them a break.
As things wind down, you can also use this time to perform some regular check-ups and routine maintenance.
Maintaining the mower
"Landscapers should check their blades and the blade condition to make sure they're in good shape and will be ready to go the following season," says Glenn Lovell, senior technical services technician at Oregon Products, which is part of Oregon Tool. "If blades are bent, it is time to replace them. Blades will also become dull in time."
Lovell says that ahead of storage, give mowers a thorough look over.
"You should also check all of the belts to ensure they're in good condition and have no cracks," he continues. "This is a heavy wear-and-tear item and now is a good time to notice if something needs to be fixed."
Lovell says that landscapers can also perform a check of the spindles and all of the pulleys.
"If you have a spindle, make sure you put two pumps of grease in the grease zerk," he adds.
Before putting your mowers into off-season storage, also be sure to clean the deck and undercarriage. Disposing of excess grass clippings is important.
Maintaining trimmers
According to Lovell, trimmer line blades also need some care and ongoing maintenance. As you continue to use your trimmers during the autumn season, be careful not to let them get dried out.
"Trimmer line dries out relatively easily, so our recommendation is that you wet it with a sponge that you've rung out," Lovell says. "You don't want it dripping wet. You can also set it on the sponge for a few hours to allow the line to absorb some moisture so that it won't become frayed or break."
When it comes to storing string trimmers, Lovell says that they can be stored vertically or horizontally. But vertical storage does allow for better use of space.
Finding a proper place for storage
It will also be critical that you find the proper place for storage so that all of your equipment is protected and safe in the off-season. Rust and corrosion can build up on machinery so it's important to store it in a low-humidity environment free of moisture.
Also, be cognizant of storing equipment in a way that it doesn't pose potential accidents. Store it in a position where no sharp edges or blades can cause any injury to crews.