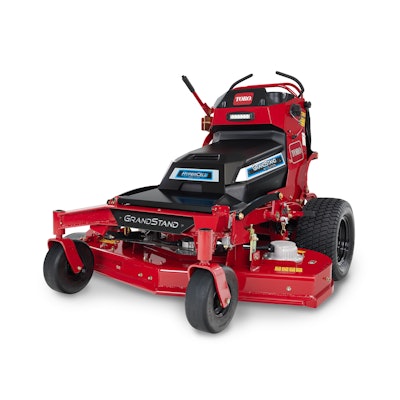 Toro
Toro has introduced three new products designed to meet the evolving needs of landscape contractors. This year at GIE + EXPO, Toro showcased the new Revolution Series of battery-powered commercial lawn care equipment, the Z Master and the Grandstand Revolution, and a new Z Master 7500-D with a massive 144-inch cutting deck.
"The new Z Master Revolution and Grandstand Revolution take two of Toro's beloved mower platforms and revolutionizes them with lithium-ion battery power technology that will outlast the sun," said Chris Vogtman, director of marketing at Toro. "We're also excited to introduce the new Z Master 7500-D 144", which helps landscapers make easy work of large amounts of acreage. Plus, all the new equipment comes Horizon360 capable, which is a real advantage for creating business efficiencies."
Every Revolution machine is equipped with patent-pending software in the controls that enables smooth operation. It also gives operators a chance to customize the machine with adjustable deck rake, drive speed control options, and blade tip speed settings.
The Revolution Series mowers are powered by Toro's HyperCell Power System, which was specifically designed with the same innovative spirit Toro has applied for more than a century to its equipment, and delivers all-day power and reliability. The Battery Management System (BMS) allows for longer run times and quick charging to maximize productivity. HyperCell is built to run cooler than other power systems, so it can last as long as the sunlight. Ultimately, operators gain efficiencies, cut down on emissions, and can complete more jobs with less hassle.
Z Master Revolution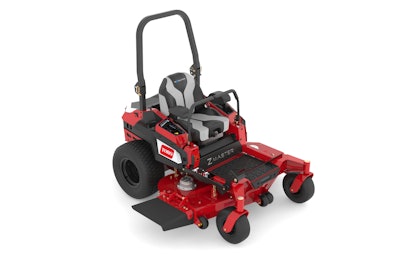 The past and present just became the future with the new Toro Z Master Revolution zero-turn mower.
Built on Toro's commercial-grade Z Master 4000 Series frame and legendary Turbo Force deck, the new Toro Z Master Revolution offers robust battery-powered go-all-day comfort with Toro's patented MyRide suspension system. The suspended operator platform and easy to adjust, personalized ride settings maximize comfort. All-day run time from Toro's HyperCell Power System seals the deal.
Grandstand Revolution
The Toro GrandStand Revolution stand-on mower is a powerful machine designed for high-performance and professional lawncare pros focused on optimizing their businesses with the next generation of landscaping equipment. It's the same ride you've come to trust with its space-saving, flip-up platform, only now it's powered by Toro's durable HyperCell batteries.
Featuring a Turbo Force deck with an adjustable baffle, operators can adjust the deck baffle to get the most pristine cut in any condition. The Turbo Force deck is a 50 KSI 7-gauge high strength steel deck, complemented with an extra-strong tubular chassis and durably rugged I-beam front-end. It also features industry-leading dual capture anti-scalp rollers to ensure the highest quality of cut in the harshest terrain. Discharge and disperse clippings with the industry's highest IQ system—rubber discharge chute clears obstacles, while debris dispersion is second to none.
Rough bumps and challenging terrain are all in a day's work. Feeling them shouldn't have to be. The Toro GrandStand Revolution combines the speed and comfort of a zero-turn rider with the on-and-off ease of a wide area walk-behind — creating a fast, maneuverable, and more productive alternative to meet your quiet, battery-powered, efficient mowing needs.
Z Master 7500-D 144"
Toro's Z Master 7500-D is known to keep crew numbers to a minimum and productivity up — and now Toro is taking its grass-kicking capacity to a whole other level with a new 144" cutting deck.
The new Z Master 7500-D 144" adapts automatically to changing terrain on the fly by choosing the right operating mode for the conditions with Toro's Horizon technology. The Horizon onboard intelligence platform enhances the performance of the machine in various mowing conditions and protects the mower by monitoring engine oil temperature and pressure. You'll save fuel costs while maintaining top-level performance.
The massive mowing deck can fold its wings up to 83 inches, allowing it to fit on most standard trailers. The wings flex up to 20 degrees and down to 15 degrees, which hug the ground as you mow, giving you a pro-quality cut on uneven terrain.
Built to last with a protective engine hood, bullnose bumper, 250-lb. Warner clutch and a 7-gauge deck, the new Z Master 7500-D 144" will get the job done for a long time to come.
Horizon360
Each of these three new products comes Horizon360 capable. Toro's new business software for landscape contractors drives more profits and increases business efficiency and effectiveness.
This powerful, new, all-in-one software suite allows landscape contractors to more effectively track the productivity of their crews and equipment, automate their billing process, and enhance the time management of their businesses. Horizon360 also offers proof of service, job notes and office notes, real-time equipment tracking, and a bi-lingual phone app for managing scheduling, weather events, and multiple crews.