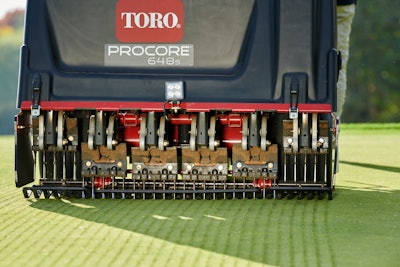 Toro
Toro is building upon the legacy of the ProCore648 with the new ProCore 648s, introducing even more innovative, patent-pending features and thoughtful enhancements to improve its turf-care capabilities.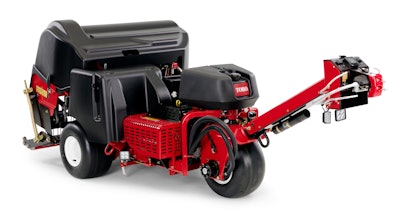 "We are keeping everything that people love about the ProCore 648 and improving on it," says Jeffrey Ische, Global Product Marketing Manager at Toro. "We've listened to our customers, and are confident they'll find that the features on the new ProCore 648s, which has more than 10 new patents, will help improve productivity, operating consistency, ease of use, and, most importantly, its aerating performance."
One such evolutionary improvement of the ProCore 648s is its new electronic drive control, which can maintain more consistent hole spacing when aerifying sloping terrain. Additionally, this precision control gives operators the ability to easily increase speed on turnarounds while also allowing for a tighter turning radius — with little to no front-wheel push during turns.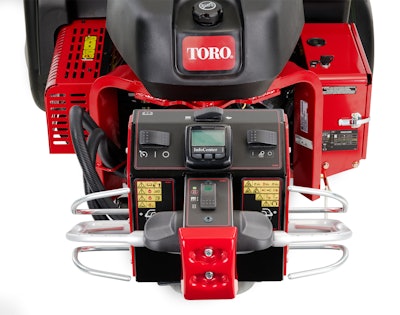 Operating the ProCore 648s in the Delayed Mode reduces disruption of the turf surface, resulting in a faster return to pre-aeration conditions. In this mode, key operating parameters are continually monitored to ensure max tine depth on the first entries into the soil. In most turf conditions, this feature eliminates labor needed to repair tufted turf. Delayed Mode also allows operators to mark the spot where they want the coring head to drop or raise using the leading edge of the front tire as their indicator, making starting and ending passes or jumping up and over an in-ground obstacle, like an irrigation head, much easier.
Enhanced control
The Toro team took a hard look at how operators use the machine to inform enhancements. Revised positioning of the controls on the console allow single-hand operation from either side of the machine, so operators can easily walk forward, reducing fatigue and allowing them to focus their attention toward the direction of travel. The proven InfoCenter technology has also been added to enable precise 'set and save' increments for tine depth and hole spacing, giving managers ultimate control.
Lastly, a storage box has been added and an accessory LED light kit is available.
For information on Toro's new ProCore 648s, visit Toro's website. Please follow this link to find a local Toro distributor near you.