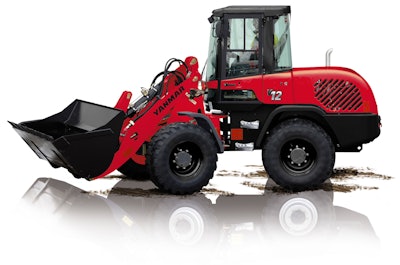 Yanmar
With operating weights ranging from 8,422 pounds to 15,432 pounds, Yanmar's V-series compact wheel loaders offer capabilities for a variety of applications while maintaining a small footprint, comfortable cab and ease of operation.
The lineup includes the V4-7, V8, V10 and V12. They tackle everything from agriculture to construction, snow removal and rock quarries. Bucket capacities run from 0.65 to 2.35 cubic yards, and lift capacities of 7,451 to 15,962 pound-force. Travel speeds clock in from 11.8 to 22 mph.
The V4-7, V8 and V10 are equipped with electronically controlled Yanmar diesel engines, which balance power with minimized fuel consumption, the company says. The V12 features a Deutz diesel engine.
Hydraulics = performance
Hydraulic quick couplers allow for fast and easy attachment changes. Operational efficiency is further enhanced by parallel kinematics on the V8, V10 and V12. This allows operators to lift loads precisely without the need for constant readjustment of the load angle, according to Yanmar.
The V4-7 is the most compact loader in the line and has a Z-bar boom configuration for higher breakout forces. It also has an auto-leveler mode for applications when it is beneficial to maintain a consistent bucket level. When heavy lifting isn't required, the V4-7 offers eco mode, which reduces the motor speed and fuel costs.
Cab comforts
The Yanmar compact wheel loader cabs offer high visibility, a suspension seat and full climate control. All models feature two doors for entry from either side and increased ventilation. An oscillating rear axle is designed for smooth off-road operation and transmits traction force to uneven ground. This also keeps the bucket level in operation and reduces operator fatigue.
The V8, V10 and V12 come standard with enclosed cabs designed to reduce operator fatigue. Cabs are rubber-mounted for a smoother ride and feature a comfortable seat with lumbar support, cushioning and an extra high backrest. The V4-7 is available in both open- and closed-cab configurations.
A central lubrication system is an option for the V8, V10 and V12. This provides constant lubrication while the machine is running.
Maintenance kits provide common maintenance and wear part replacement items in one place. These are available for all compact wheel loaders in the line. The loaders feature convenient access to service items for increased uptime, the company says.