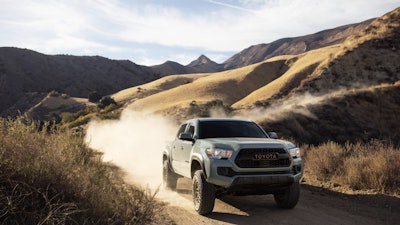 Toyota
The Toyota Tacoma may rank as the country's most popular midsize truck, but it's also the only pickup to have received a poor rating following a new side impact crash test.
The Insurance Institute for Highway Safety announced the new test after learning that side impact crashes have become more severe as vehicles become larger.
"The updated side crash test uses a heavier barrier traveling at a higher speed to simulate the striking vehicle," the report states. "The new barrier weighs 4,200 pounds — close to the weight of today's midsize SUVs — and strikes the test vehicle at 37 mph, compared with a 3,300-pound barrier traveling at 31 mph in the original evaluation."
The 2022 Toyota Tacoma received the worst ranking of all midsize trucks tested which included the 2022 Chevy Colorado, 2022 Ford Ranger, 2022 GMC Canyon, 2022 Honda Ridgeline and 2022 Nissan Frontier which had the best ratings of all.
"The Frontier's structure held up the best out of all six vehicles, and the Ranger's occupant compartment was also maintained relatively well, minimizing the risk of most injuries," according to the report. "However, the rear passenger dummies' heads struck the C-pillar through the side curtain airbag in both acceptable-rated vehicles."
The Tacoma, on the other hand, came out dead last in the ratings. The report reads, "Though measurements indicated minimal risk of most injuries for the marginal-rated Tacoma, its structure and safety cage were not maintained well during the crash. The impact from the striking barrier crumpled the door sill and B-pillar, pushing the B-pillar to within a few inches of the center of the driver seat."
A poor grade for 'Structure and safety cage' paved the way for the only marginal safety rating given for overall performance.
"We weight structural performance very heavily because it is tied so closely with survivability," said IIHS Senior Research Engineer Becky Mueller, whose work formed the foundation for the new evaluation.
Toyota would not comment on the report.