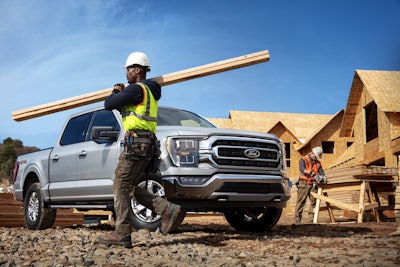 Ford
Ford remains king of truck sales in the U.S. with news this week that it will exceed 640,000 sales for its F-Series in 2022 making it the 46th year in a row that the Big Blue Oval has dominated the American truck market.
Last year's sales also made F-Series the best-selling vehicle in the country for the last 41 years. That's a lot of trucks. In fact, it adds up to an average of one F-Series truck being sold every 49 seconds in 2022.
From F-150 to F-550 chassis cab, entry level XL to well-equipped Limited, EcoBoost to the all-electric F-150 Lightning, lined bumper to bumper, all of the Ford F-Series trucks sold last year would stretch approximately 2,400 miles, or further than the driving distance from Los Angeles to Detroit.
"The Ford truck team's ability to anticipate customer needs, continuously innovate, and provide best-in-class levels of capability and performance has helped make F-Series the sales leader time and time again," said Kumar Galhotra, president, Ford Blue. "We're honored and humbled that our customers have helped us achieve this milestone for more than four decades."
F-Series celebrates its 75th anniversary this year with the all-electric F-150 Lightning, the first full-size electric pickup. The all-new F-Series Super Duty, with more capabilities and features than ever before, racked up an impressive 150,000 orders, further cementing F-Series as the truck of choice for heavy-duty truck buyers. First deliveries start early this year.
With Maverick, Ranger, F-150, Super Duty, all the way up to F-750, Ford offers the nation's broadest lineup of trucks.