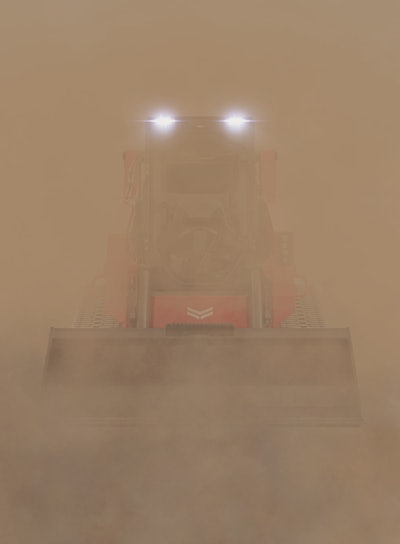 Yanmar
Working together under the Yanmar Compact Equipment North America umbrella, Yanmar CE and ASV will showcase both companies' latest compact equipment – including a possible collaboration project – at Conexpo-Con/Agg 2023 in Las Vegas.
A foggy teaser photo shared a glimpse of a Yanmar-branded compact track loader. Yannar CE currently manufactures compact excavators, wheel loaders and tracked carriers, while sister brand ASV produces skid steers and CTLs. A spokesperson for Yanmar was unable to confirm if ASV would be manufacturing the CTL for Yanmar but indicated that more details would be revealed at a press conference at the show.
YCEA previously noted that the alignment of brands under a single entity would "allow a wider range of compact equipment offerings long-term." The new CTL could be one of many crossover projects likely to be revealed going forward. This would not be the first time Yanmar has offered CTLs in its product portfolio.
The following existing Yanmar products will also be on display:
Mini Excavators
ViO17-1E
ViO35-6A
ViO55-6A
SV100-2A
Compact Wheel Loader
Tracked Carrier
The 2023 show marks Yanmar's first ConExpo appearance since 2014, and the company says a lot has changed since then.
Tate Johnson, president of Yanmar Compact Equipment, said, "We've grown immensely since our last visit to ConExpo, and the new products we will introduce will prove our focus on compact equipment growth in North America."
ASV

ASV
ASV will also introduce a new product and feature its RT-75, RT-135F, RT-40 compact track loaders and attachment line.
"We are excited to make a splash at ConExpo with a new product that meets our customers' needs," said Buck Storlie, product manager for ASV. "Between the new product introduction and recently introduced equipment we will display, we anticipate show attendees will be impressed with what our booth has to offer."
Attendees can find YCENA at booth W40059 in the West Hall of the Las Vegas Convention Center.