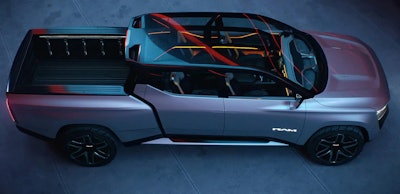 Ram
Ram says it plans to disrupt the electric vehicle world with its Ram 1500 Revolution battery-powered pickup, with production planned for 2024.
Earlier this year the company rolled out a concept Revolution at CES 2023, along with a robotic charger for the pickup.
The truck gets modern, techy styling on the exterior, which Ram calls "strikingly 'brutiful' – as in, "brutal yet beautiful" – and some innovative features on the interior that contractors might appreciate, such as third-row jump seats, a center console that can be removed for additional work space and an armrest that can be converted to a work station surface.
The truck's doors open in a "grand saloon style" revealing a "cavernous interior" with no B-pillar, the company says. Various seating configurations are possible, including a pass-through into the frunk that can fit objects up to 18 feet long.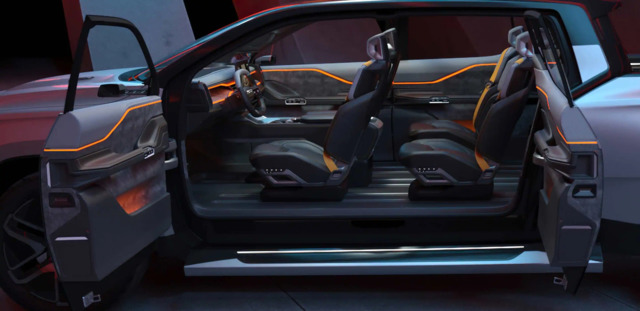 RamThe truck will run on two electric drive modules, with one at the front of the truck and the other in the rear, and deliver all-wheel drive. It is built on a Stellantis STLA Frame designed for electric vehicles. Stellantis was formed in 2021 as the parent company of the merger of Fiat Chrysler and Puegot's parent company.
The battery design allowed for the cabin to be shifted forward 4 extra inches for more legroom, while the bed remains the same length as Ram's current trucks. Battery packs have full underbody aero panels and active diffuser, Ram says. The company says the concept truck can add up to "100 miles of range in approximately 10 minutes with 800-volt DC fast charging at up to 350 kW."
Ram unveiled a "robot charger" for juicing up the truck at home or work. The Ram Charger "detects the vehicle's presence and its charging needs and automatically moves into position and aligns itself under the vehicle," Ram says. Smart-charge capability will allow charging during off-peak time.
The concept truck also features four-wheel steering with up to 15 degrees of articulation for parking at low speed, driving on tight off-road trails and increased responsiveness at high speeds, the company says.
Other highlights:
An animated and modernized "R-A-M" badge for the truck's new face with a fully animated LED "tuning fork" design.
LED lights integrated into the front bumper flares and fully animated LED taillamps and badging.
Integrated fascia design with a skid plate and new pivoting tow hooks that can sit flush.
New powered frunk that opens and closes with the push of a button.
The charge port door is on the driver's side front quarter panel. It provides AC and DC charging, illuminates and blinks while charging, and makes an audible signal when it's plugged in and begins charging.
Powered multifunction tailgate and larger Ram Box.
Flush-mounted door handles.
Powered side and rear steps.
Side-view mirrors with a digital camera that shows the truck's surroundings. The mirrors are made of 3D printed materials for improved aerodynamics, Ram says.
24-inch wheels with center caps that light up and stay in place.
Touchscreen display with two screens totaling 28 inches of screen space.
Rearview mirror with a backup camera with 360-degree views, speakers and receivers compatible with voice assistants, such as Alexa and Siri. The mirror also includes a supplementary backup flood lamp when driving in reverse.
Flat-top and -bottom collapsible steering wheel.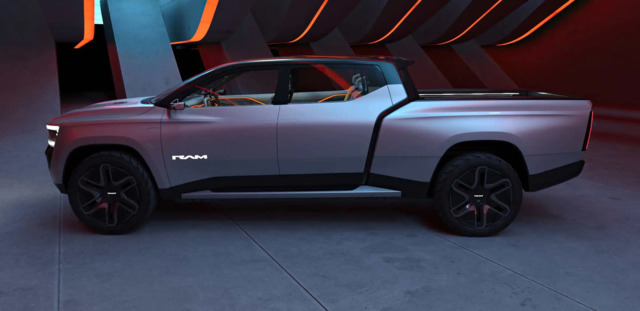 Ram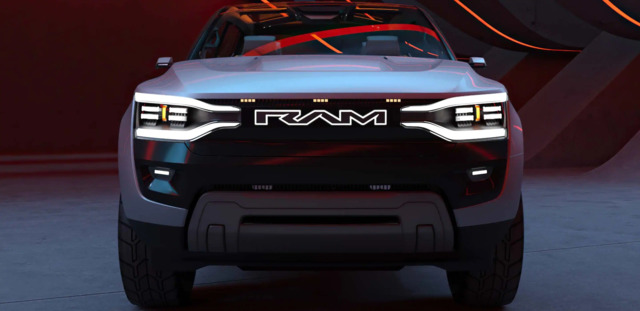 Ram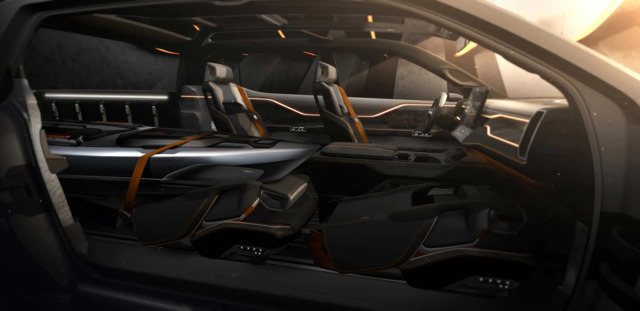 Ram