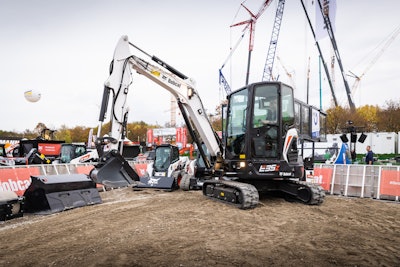 Bobcat
Bobcat Company is preparing to showcase its most robust lineup of products and innovations ever at ConExpo-Con/Agg 2023 in Las Vegas, March 14 - 18.
The brand will celebrate its newest innovations, digital solutions, equipment and expertise in bold new ways during the show, which also coincides with the company's 65th anniversary year. Electrification, autonomous operation and digital technologies will be on display as the company shares new ways these advancements are making compact equipment operations easier and more productive.
You can see more of what OEMs have in store for ConExpo 2023 on our show preview page by clicking here.
"Our groundbreaking legacy as the inventors of the compact equipment industry is just the start of our story," said Mike Ballweber, president of Doosan Bobcat North America. "It is a transformative time for our company and our brand, and we are ready to unveil our newest concept machines and share some exciting news about the expansion of our brand at ConExpo 2023."
It's electric
To date, Bobcat has unveiled three electric compact excavators the E10e, its first electric compact excavator announced in 2019, the E19e and the E32e which both were unveiled in 2022. Each is battery-powered but maintains hydraulics for operation.
Another conceptual design is the E35e electric-powered compact excavator. With the hydraulically controlled joysticks replaced by an electro-hydraulic system, Bobcat can customize controls to operator skill levels.
Bobcat will celebrate its newest innovations, digital solutions and equipment during ConExpo, which also coincides with the company's 65th anniversary year.Bobcat CompanyThe company says additional levels of digital functions and features are also available to the operator.
Using integrated sensors, the E35e can carry out some semi-automated tasks for precise grading and leveling, trenching or repetitive tasks such as return to dig.
In addition to its electric power, the E35e also featured a new transparent Organic Light Emitting Diode (OLED) touch display that was developed in conjunction with LG Electronics and BSI Research.
The prototype provides a transparent, engaging touch display embedded within the glass structure of the operator's cab. This allows operators to view the construction site around them while using the front windshield or side window as a large touchscreen.
Bobcat says the display can be customized with smart widgets and interactive applications to integrate data relevant to the jobsite or daily activities. Using the touchscreen or other mobile device, it is possible to remotely control the excavator or other machines on the jobsite.
The display can be positioned on the front windshield or side window of the cab on a range of Bobcat machines, including compact excavators, telehandlers and loaders.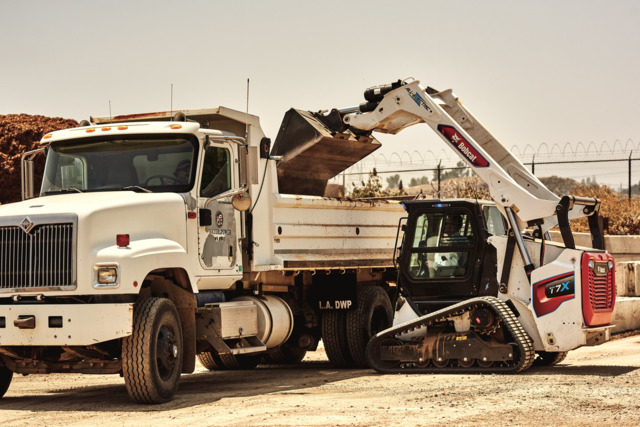 In 2022, Bobcat unveiled the world's first electric compact track loader, the T7X, which was recognized for its ingenuity with two CES Innovation Awards in the Vehicle Intelligence and Transportation and Smart Cities categories.Bobcat CompanyAlso in 2022, the company delivered the world's first electric compact track loader, the T7X. The all-electric machine was recognized for its ingenuity with two CES Innovation Awards in the Vehicle Intelligence and Transportation and Smart Cities categories.
The company will unveil two new electric concept machines during the show on Tuesday, March 14, at 4 p.m. in its booth (W41544 in the West Hall).
To learn more about the future of electrification, Joel Honeyman, Bobcat vice president of global innovation, and Matt Sagaser, director of innovation accelerated, are taking center stage during an education session titled "Electrifying the Future: Get Plugged In." The presentation, to be held on Tuesday, March 14 at 1 p.m. in West Hall 216-218, will examine common myths surrounding the electric operation, and the benefits, from sustainability to performance enhancements to technological advancements. Tickets are available through CONEXPO-CON/AGG's website.
Bigger and bolder
Show attendees will also get their first look at the L95 compact wheel loader, Bobcat's newest and most powerful compact wheel loader to date. The L95 offers the largest bucket size, increased lift performance, 74 horsepower, and travel speeds up to 25 mph. It will be available in 2024.
Along with the introduction of new products and solutions, Bobcat will also have several recently launched products on display, as well as its longtime staples. Equipment on display will also showcase optional accessories and new attachments.
With a higher engine and hydraulic output, Bobcat has expanded its R-Series loader lineup with the T86 compact track loader and the S86 skid steer. These loaders are defined by the company as the "most powerful" compact loaders it has ever produced.
Each has three different auxiliary flow outputs, allowing the machines to operate a wide range of attachments. There is a standard-flow configuration providing 23 gallons per minute for applications such as load and carry, or where low hydraulic flow attachments are used. Two additional hydraulic performance functions are available using the new Electronic Displacement Control (EDC) pump. The high-flow function provides 36 gpm, and a new super-flow function takes auxiliary flow to 42 gpm for attachments such as super-flow snowblowers, cold planers and forestry drum mulchers.
In addition, as part of its 2023 offerings, Bobcat has its limited-edition Platinum Machines: T76 Platinum compact track loader and E42 Platinum compact excavator.
Contractors attending Equip Expo 2022 or Bauma 2022 enjoyed a sneak peek of Bobcat Company's newest telehandler, the TL519. The official launch will be at ConExpo.
Other highlighted machines include an S650 skid-steer loader, the E145 large excavator and an E60 compact excavator with intelligent controls.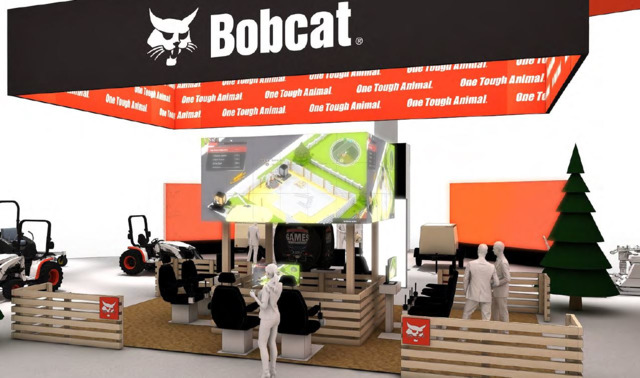 Along with the introduction of new products and solutions, Bobcat will also have several recently launched products on display at ConExpo as well as longtime staples of the brand.Bobcat Company
Digitial technologies
Bobcat will exhibit several digital features and technologies, some in concept form and others currently commercially available.
New in concept form is a collision warning and avoidance system designed to assist operators' jobsite awareness. Compatible with select Bobcat compact track loaders and skid-steer loaders, the technology tracks an object's position, direction and speed relative to the machine. Using either the active or passive setting, the operator can receive an audible alert or enable the machine to stop automatically upon detecting an object in its path. While still in product development, the solution is expected to be available to customers in 2024.
One of its latest technology concepts, the Bobcat Intelligent Control System will be featured on an E60 excavator. The new intelligent controls enhance machine control and operation. With greater customization of work modes, operators can increase their performance and efficiency while grading, trenching, slewing and performing other precise operations. The company says the new Drive by Joystick mode allows operators to use the joysticks to travel, like Selectable Joystick Controls on a Bobcat loader. Bobcat Intelligent Control System on compact excavators will likely lead to further innovations, like advanced depth check features, remote operation via Bobcat MaxControl and autonomous functionality.
With Bobcat MaxControl, operators can control their loader using an app on an iOS smartphone or tablet, thus allowing for operation outside the cab. Initially introduced in 2021, the new offering for the app is a control device that operators can attach to their smartphones for easier remote operations. The remote control has a tactical joystick and button operations like a videogame controller. By moving the operating controls off the phone screen, operators can use the screen for enhanced control views.
Bobcat Machine IQ wireless communications is a tool that empowers operators of select Bobcat machines to access current and historical machine data from virtually anywhere and at any time. Machine IQ telematics devices are installed on select Bobcat machines before they leave the factory. Bobcat also offers an aftermarket kit compatible with most Bobcat machines to make them Machine IQ-ready. This subscription-based service includes advanced fleet management features to monitor and analyze fuel usage, operating hours, maintenance intervals, and other critical information about every connected machine in a large fleet.
Introduced by Bobcat in 2020, Features on Demand gives customers the flexibility to enable additional features on specific R-Series compact loader models as their needs change. Features on Demand include automatic ride control, high-flow hydraulics, dual bucket positioning, 2-Speed travel, reversing fan, and more. In 2023, via Features on Demand, customers can add auto throttle, which automatically applies engine rpm to perform tasks more efficiently, while conserving fuel.
In the booth
The Bobcat booth offers an experience for all fans of the brand. After getting a firsthand look at the latest machines and visiting the merchandise stand for limited-edition Bobcat apparel and gifts, attendees can be among the first to try Bobcat's beta video game, Groundbreaker Rumble.
Groundbreaker Rumble puts operators on virtual jobsites with challenges and tasks to accomplish. Put your skills to the test by selecting your Bobcat equipment and attachments to complete challenges in this arcade-style game. Levels can be replayed to try different strategies or machinery to claim a better score. The game is still under development but show attendees can get a sneak peek and experience it firsthand.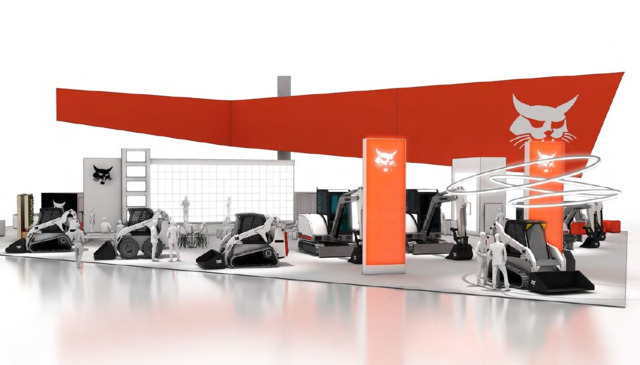 Bobcat Company is preparing to showcase its most robust lineup ever at CONEXPO-CON/AGG 2023 in Las Vegas, March 14 - 18.Bobcat Company