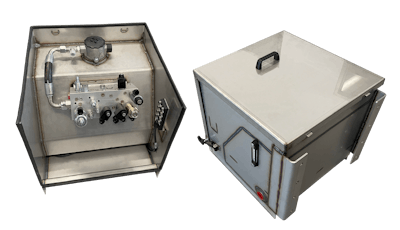 Certified Power Solutions (CPS) has announced the launch of SnowPak, a new snow and ice removal system. It was specifically designed for commercial businesses and municipalities utilizing NTEA Class 3-6 trucks as part of their fleet. With a versatile base package design and optional features that include a multi-functional joystick and ground speed-oriented spreader, drivers now have the capabilities they need to easily tackle hoist, plow, and spreader applications in one powerful solution.
"For decades, CPS has been a leader in snow and ice removal for state, county, and local governments, municipalities, and public works organizations in the U.S. as well as Canadian provinces," said Jeff Keating, President of CPS. "We're excited to expand our snow and ice removal expertise to commercial businesses and municipalities that rely on one-ton trucks as a vital part of their operation. Traditionally, these fleets have lacked the tools they need to provide effective, efficient snow and ice removal. We're proud to offer SnowPak as a simple, yet effective way to help these organizations keep trucks plowing and spreading without compromising performance and reliability,"
To keep roads clear and safe during the snow season, SnowPak delivers benefits to every role involved in snow and ice removal:
Fleet managers and business owners can effectively enable their one-ton fleet to clear roads and keep the public safe during snow events.
Maintenance and operations teams will benefit from less maintenance and lower material costs to increase productivity.
Drivers will stay focused on the road with simpler controls and a more ergonomic form factor.
"Recognizing the variety of technologies and equipment in use by our customers, our engineers set out to create a solution that could be tailored to meet the market's specific needs," said Wade Gehlhoff, Director of Engineering at CPS. "With the SnowPak base design, customers have the flexibility to upgrade their system over time by adding features like prewet, plow and hoist joystick, and tarp controls without needing to replace what they've already purchased.
For more information on the new CPS SnowPak solution for one-ton trucks visit www.certifiedpowersolutions.com.