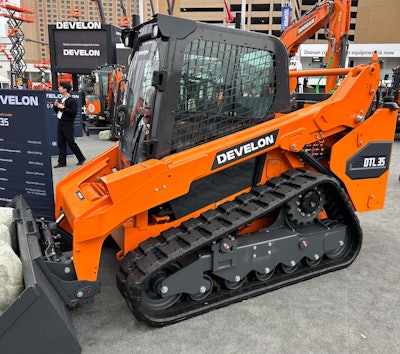 Equipment World
Develon – formerly known as Doosan – unveiled its first ever compact track loader at ConExpo, entering a new machine category for the company.
The move is part of a strategy by Develon to broaden its product offerings. In 2021, the company unveiled its first concept dozer, which is now on the market.
At this week's ConExpo, the Develon booth partly maintained the Doosan name so as not to confuse attendees not yet aware that the company has rebranded its construction equipment. The Develon name, however, was in prominent display and marked the first time the new name has appeared on equipment since it was unveiled in January. A full rollout at dealerships and throughout the product line is scheduled to occur by the end of 2023.
The DTL35 compact track loader is still in prototype stage, but is expected to hit the market in 2024 after more testing with the company's dealers. It will be the largest in a three-model lineup, at a rated operating capacity of 3,657 pounds. Two more CTL models are also planned after that in 2024. One will have a rated operating capacity of about 2,300 pounds, and the other will have a 2,600-pound ROC.
The DTL35 will run on a 116-horsepower, 3.4-liter Develon engine, which is the same as on the company's DD100 dozer and 14-ton excavator.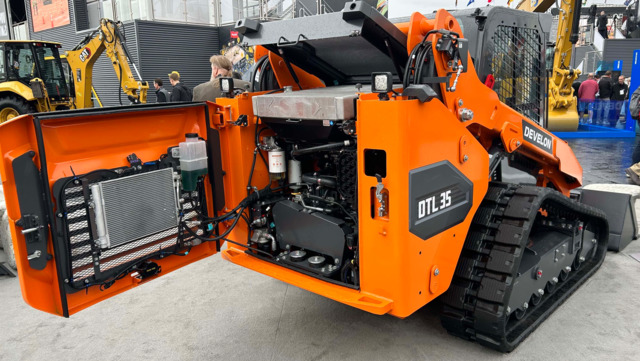 The DTL35 is equipped with a 116-horsepower Develon engine.Equipment WorldElectric-hydraulic controls are standard. A high-flow option of 40 gallons per minute will be available. The attachment linkage system will automatically level the bucket at any height to prevent material from spilling. Develon also brought some of its wheel loader technology to the CTL, with standard bucket shake to remove stuck material at the push of a button.
The cab is designed to be spacious and has a swing-out glass door made of half-inch-thick polycarbonate that is unbreakable and offers high visibility for the operator.
Two 8-inch monitors are inside the cab. One is a full-color touchscreen that shows machine functions, and another displays the camera. A rearview camera is standard, and Develon added an obstacle detection system for moving in reverse. An Around View Monitoring camera system, which provides a 360-degree view around the loader for increased safety is optional.
The arms on the CTL are vertical rise to 10 feet 8 inches. Develon also added torsion suspension to reduce cab vibration on rough terrain. Front and rear LED lamps come standard.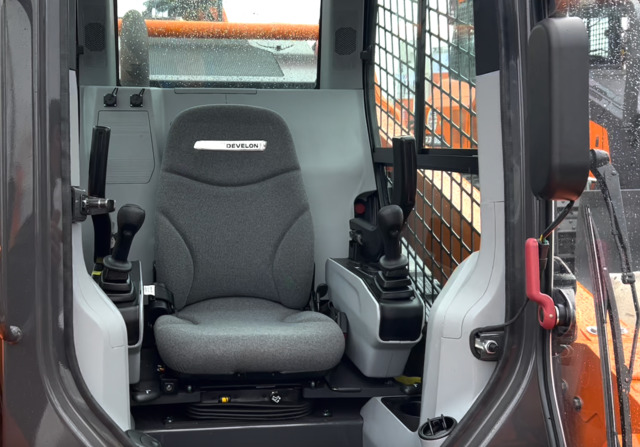 Equipment World
Quick specs
Gross power: 116 hp
Operating weight (with 165-lb. operator): 12,604 lbs.
Rated operating capacity: 3,657 lbs.
Auxiliary standard flow: 23 gpm
Auxiliary high-flow option: 40 gpm
Travel speed: up to 8.7 mph
Ground pressure (rubber shoe): 5.7 psi