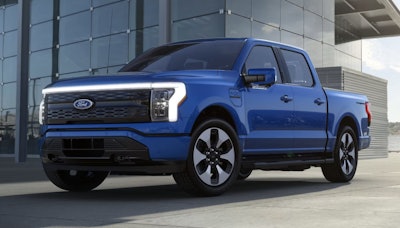 Ford
Ford has recalled a small number of electric F-150 Lightnings following a battery fire at its Rouge Electric Vehicle Center last month.
A battery cell defect discovered in SK batteries built roughly a month starting at the end of last year led Ford to recall 18 of its full-size electric trucks.
"We recently established that 18 vehicles containing cells from that four-week period had made it to dealers and customers," said Ford spokesperson Emma Bergg.
[Related: Charging options are key to success in F-150 Lightning]
The recall follows a battery fire in an F-150 Lightning that had been parked on a holding lot following production at the Rouge Vehicle Center in early February. That fire spread from the truck to at least two other vehicles. No injuries were reported.
"On Feb. 4, during a standard quality check, one vehicle displayed a battery issue and caught fire," Bergg said. "The root cause identified was related to battery cell production at the SK On plant in Georgia.
"Ford is not aware of any reports of accident or injury related to this recall," Bergg continued. "Together with SK On, we have confirmed the root causes and have implemented quality actions. Production is on track to resume Monday with clean stock of battery packs."
The 2022 Ford F-150 Lightning has nine recalls according to the National Highway Traffic Safety Administration. The latest was issued last month for a loose bolt in the transmission which may cause the vehicle to roll away. There are no recalls listed for the 2023 Lightning.
On its website Ford reports that the 2023 Lightning is no longer available for retail order due to high demand. Battery pack options are available in 98 kWh and 131 kWh sizes which deliver 240 and 320 miles of range respectively. The 2023 Lightning F-150 PRO built for fleets starts at $55,974 with 240 miles of range.
Ford will begin using less volatile lithium iron phosphate (LFP) batteries starting in 2024. Other OEMs including Rivian, Tesla and Lightning eMotors have also embraced LFP.