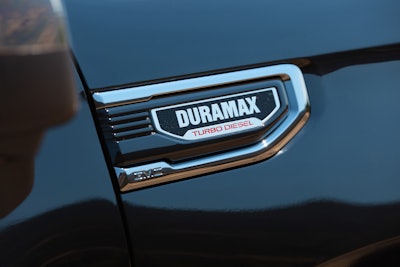 GMC
While GMC made headlines for its all-electric Hummer pickup and its upcoming electric Denali, it's also still showing some love for diesel.
The pickup manufacturer popular for blending capability, comfort and style is offering the 3.0-liter Duramax diesel on its 2024 Sierra 1500 AT4X.
First introduced on select 2023 Sierra 1500 trims, the updated 3.0-liter Duramax comes standard with a 10-speed automatic transmission and delivers max power of 305 horsepower (a 10% increase compared to model year 2022), and max torque of 495 lb-ft (a 7.6% increase over model year 2022).
"The 3.0-liter Duramax Turbo-Diesel engine has long been a favorite of Sierra light duty owners," said Will Mellon, marketing manager, GMC Sierra. "Since the launch of the refined Duramax for the 2023 model year, around 20% of all Sierra 1500s sold have come with the engine and we expect its addition to the AT4X trim to take mix even higher."
The Duramax Turbo-Diesel engine's advancements are made possible through several key component upgrades, including new steel pistons with a revised combustion bowl; retuned turbo compressor; new fuel injectors; and improved temperature control features.
"These refinements of the 3.0L Duramax Turbo-Diesel engine took an already awesome engine and made it even better for off-road applications," said John Barta, GM assistant chief engineer, Diesel Engines. "The outstanding low-end torque combined with the smooth and quiet power of this diesel engine, make it ideal for customers requiring on-road capability for things like towing, as well as off-road adventures like long-distance overlanding."
The Duramax engine will continue to be assembled at GM's Flint Engine Operations plant in Michigan and will be available on the 2024 GMC Sierra 1500 AT4X later this summer.
The 2024 model year also brings additional new features across the Sierra 1500 lineup, including:
New power retractable assist steps on Denali, Denali Ultimate, AT4 and AT4X
Available active exhaust for Denali, Denali Ultimate, AT4, AT4X and SLT
Two additional premium aluminum wheels
Two new unique and bold exterior paint colors, Downpour Metallic and Thunderstorm Gray
Finally, for the 2024 model year, the 2.7-liter Turbo High-Output Engine will now carry the name TurboMax with 310 hp and a best-in-class standard torque rating of 430 lb-ft and max available towing of 9,500 lbs. for GMC Sierra 1500 Elevation, SLE and Pro customers.