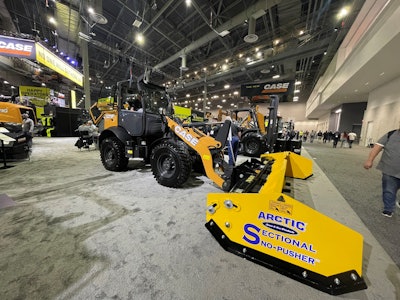 Equipment World
Set to formally launch later this year, Case CE gave ConExpo attendees a sneak preview of its CL36EV electrified compact wheel loader and enhancements to its F Series compact wheel loader line.
By ditching its diesel engine, Case says, the 3.6-ton CL36EV offers simplified maintenance and a lower lifetime total cost of ownership. With a hinge pin height of over 10 feet, it is ideal for use in supply yards, large-scale building renovations and projects where less noise, no emissions and indoor operation are required.
"A loader of this footprint, especially one used in yard applications where it stays there and has regular access to primary power, is the perfect application for electrification," says Andrew Dargatz, product manager, Case Construction Equipment. "The CL36EV delivers the same power and performance as comparably sized diesel-powered loaders and can be matched with a full range of attachments for additional versatility."
Additional product details and commercial availability for the CL36EV will be announced at a later date. Other electrified products available from Case include the CX15EV and CX25EV mini excavators, SL22EV small articulated loader and 580EV backhoe.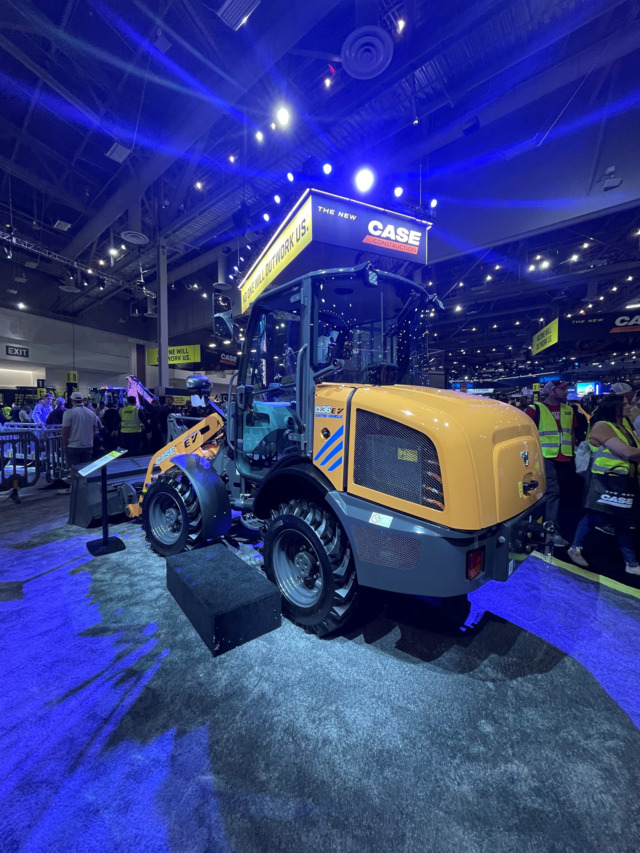 Case CL36EV Electric Wheel LoaderEquipment World
Upgraded F Series Wheel Loaders
Originally introduced in 2014, Case's F Series lineup of compact wheel loaders is getting a refresh.
The 321F on display at ConExpo featured an all-new 7-inch display, updated electro-hydraulic controls with similar settings and functionality as those seen in Case's full-sized wheel loaders, and new axles that allow for travel speeds up to 25 mph. Fuel economy gets a boost with a new Smart Mode function.
The machines will also feature Case's SiteConnect module for telematics data transfer, remote access and software uploads, helping fleet managers, Case dealers, and Case corporate proactively prevent downtime.
"The enhancements improve the operator experience with greater adjustability and customization from within the cab, and they will experience greater performance with faster travel speeds — all while reducing fuel use," says Dargatz. "And the addition of the Case SiteConnect Module brings big fleet management capabilities to one of the most dynamic compact wheel loaders on the market today — helping operators get even more out of an already extremely productive and efficient machine."
These updates to Case compact wheel loaders will also be introduced in 2023.