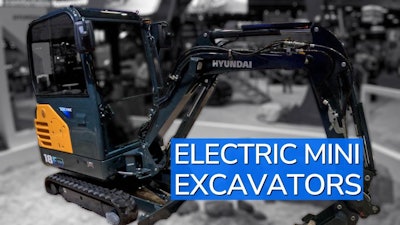 Hyundai Construction Equipment will be placing its R18E electric mini excavator prototype in front of North American customers for testing in late 2023.
As many other heavy machinery manufacturers are, Hyundai Construction is in active development of exploring more sustainable solutions to reduce customers' carbon footprint.
The first generation of the R18E electric mini excavator prototype was displayed at ConExpo-Con/Agg 2020. That same year, an agreement was signed between Hyundai Construction Equipment, Hyundai Motors, and Hyundai Mobis, at its Mabuk Research Centre in Yongin-si, Gyeonggi-do, South Korea, for the development of hydrogen fuel cell technology.
At ConExpo-Con/Agg 2023, Hyundai Construction Equipment showcased both the hydrogen fuel cell-driven HW155H 14-ton excavator concept and the second-generation prototype of the R18E electric mini excavator.
Going forward, Hyundai Construction Equipment will be producing three models of electric excavators, at 1.9, 2.7 and 3.5 tons.
"It's a newly developed platform for us," said Chris Davies of Hyundai Construction Equipment.
"We're going to continue to develop this machine throughout the rest of this year and put it into the hands of contractors. They're going to run it through its paces in real-world applications. We're going to gather that feedback and move on to the next step with this machine, which is production."
Current projections indicate the R18E may be available in the North American market sometime in 2024.
A 1.8-ton machine (the production model will be 1.9 tons due to a higher capacity battery), the R18E produces no carbon emissions and operates at between 5 and 75 decibels of sound.
It can perform the same tasks as its diesel-powered equivalent, the Hyundai R17Z-9A. Hyundai says the R18E is 60% more efficient than its diesel counterpart.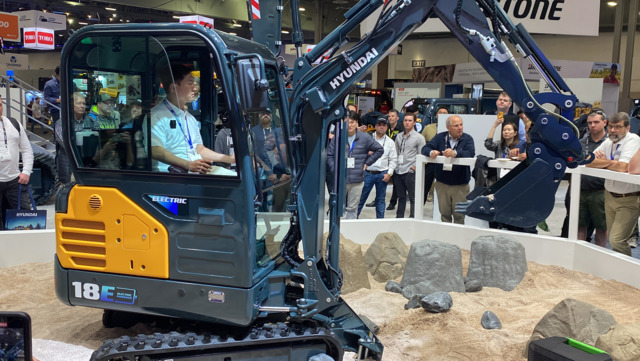 A 1.8-ton machine, the R18E produces no carbon emissions and operates at between 5 and 75 dB of sound, opening up diverse application options including indoor use.Equipment WorldThe mini excavator can be used for a diverse range of applications including demolition, landscaping, and drainage in urban areas. Due to the lack of emissions and reduced noise, it also is possible for the R18E to be used indoors, underground, or in an agricultural or livestock setting.
With an operating weight of approximately 3,800 pounds, digging depth of 7 feet 11 inches and dump height of 8 feet 10 inches, the electrified R18E uses a lithium-ion battery generating a power capacity of 19.6 horsepower (14.6 kW) to charge a 37-horsepower equivalent electric motor.
Davies said recharge time is going to be under three hours on a 220 V high-output charging system. There also will be an optional 450 V fast charging system available. As far as runtime, he said, the machine will operate for up to eight hours, depending on the application. "The biggest variable is going to be the duration and how consistent you're using the machine and making it work," Davies said, noting that it is all based on workload. "The harder the machine must work, whether you're digging out virgin earth, which is very hard and compacted, and putting in a trench line for some utilities," he said, "if that thing's digging hard, that's going to have an impact on how long that battery pack is going to last."
Conversely, a contractor doing light landscaping work or some finish grading and smoothing and not digging hard, battery runtime will be longer.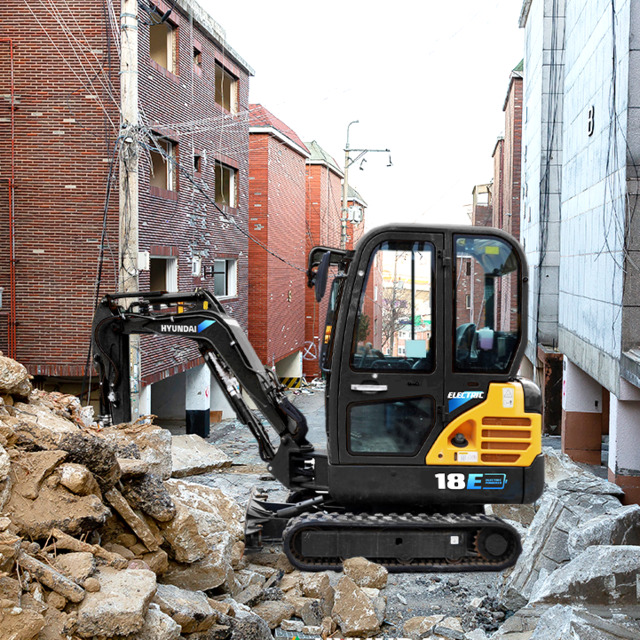 The R18E, is equivalent to the diesel-powered model and can successfully perform demolition, landscaping, and urban drainage.Hyundai Construction Equipment