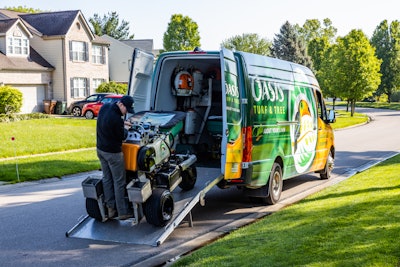 Oasis Turf & Tree
Having the right tools is a huge component of success for your lawn care business. While spreaders and other equipment are obviously important, the actual lawn care vans that you transport everything in are also key.
We recently talked to Oasis Turf & Tree in Loveland, Ohio, and RainMaster Lawn Systems in Eau Claire, Wisconsin, and Blaine, Minnesota, about how their custom lawn care vans have helped them be more successful in their businesses.
At Oasis, the lawn care vans are capable of getting team members through an entire day. They were designed to make work as efficient and as easy on technicians as possible. But they are also equipped with all sorts of technology that help ensure techs can get all their work done, too.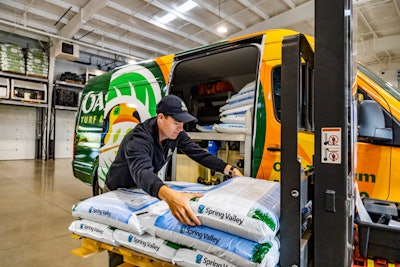 "Our lawn care vans are basically a mobile office with everything that our lawn care technicians could need for a business day," explains Rob Reindl, owner of the company. "The van cockpit has more technology than most people have in their cars. This includes touchscreens, blue tooth, adaptive cruise control, and more."
The vans are a point of pride for the company—and the team. Every year, Oasis adds new Mercedes-Benz Sprinter vans to the fleet and continually have new models added to the rotation. Lawn care technicians are proud to be driving the latest and greatest vans—and they show it by washing them once a week and keeping them looking shiny and new.
Reindl says they love Mercedes vans because of the large number of safety features that are included. Mercedes vehicles are designed to be able to drive the Autobahn in Germany.
Helping others
Reindl says that it's common for other lawn care companies to reach out and inquire about their vans. He says they're always willing to answer questions as it improves the industry as a whole.
Kevin Buck, CEO of RainMaster, says that he was thankful to get advice from the Oasis crew in choosing and designing their lawn care vans.
"One of the biggest benefits of a van is that you don't have your equipment bouncing around on a trailer—if you make the right decisions, you can get everything inside of the van," he explains. "We love that we can keep everything inside the van, which has also allowed us to park in situations that were pretty tight. And, when it's raining, we can keep everything safe and dry."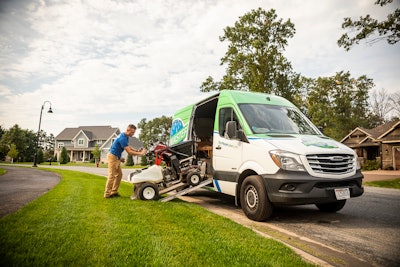 Massive billboards on the road
Buck says that a great lawn care van is also a "massive billboard," so it's important to make smart decisions in having the vehicle wrapped.
"I have had customers say that they can see us from a mile away and that has helped build brand awareness," he says. "You want something that grabs the attention."
Oasis has definitely done this as well. Their colorful vans with a toucan logo is highly noticeable. All of the vans have matching wraps. Reindl says that the vans are actually in the top four or five sources of their incoming leads.
Unique and colorful branding tends to get noticed and both RainMaster and Oasis have taken advantage of that.
A significant investment
Both companies say that their vans were no small investment, so it might not be a feasible option for lawn care companies that are just starting out.
"If you're going to truly add all the bells and whistles to your van, it's a significant investment," explains Buck. "By the time we finish a custom van, it might be as much as $80,000."
For Oasis, the vans up currently upwards of $110,000 with all the bells and whistles.
Reindl says that a good place to start when researching vans is at a Green Industry show. Every vendor brand will be there—from Nissan to Sprinter—and you can ask lots of questions. Reindl says that it can also help to talk to other lawn care companies about why they invested in vans, and when the timing is right.
"Our vans have a good ROI because they make us more efficient, more professional, and also market our services," Reindl says. "When the timing is right, it can be a really wise investment."
To see a video that Oasis made about its vans, check this out.