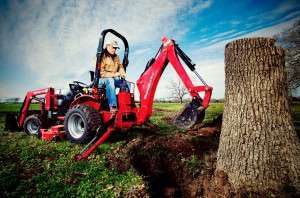 Tractors can do it all with these versatile attachments.
Pressured to do more with less, many contractors are adding attachments to their existing equipment to get the job done.
And with front and rear ends that hold attachments, tractors are a sensible solution to double your efficiency.
"Attachments are an affordable way to add versatility to your tractor and business," says Katie Althoff, attachments product specialist, Bobcat. A tractor is less expensive to buy and maintain than a skid steer, for example. "During the prime summer season, your tractor can be equipped with pallet forks on the front for pallets of sod or bricks, while the rear can handle a three-point auger or soil conditioner. With the ability to use both ends, you spend less time switching implements and more time in the seat getting the job done."
Some tractor attachments can also be used on skid steers and compact track loaders. "If you have both a skid steer and a tractor, you'd want the skid steer to focus on more power-intensive, hydraulic-related activities: soil conditioner, grader, auger," Althoff says. "With a tractor, you have PTO-driven attachments/implements, so you would want to employ the tractor for jobs that require a backhoe loader or mower implements."
On average, tractors are sold with three attachments, so here are three of the top attachment types that will transform your tractor into a digging, conditioning and off-season tool.
Load up on features
"Loaders are the main attachment option landscapers select," says Mac Payne, director of sales and business planning, Mahindra.
This attachment handles probably the widest range of tasks such as digging, loading, grading, leveling and unloading materials such as dirt, mulch and rocks – making it a top equipment choice for your fleet.
Customizable options and features further extend loaders' capabilities. To keep the load from spilling, Massey Ferguson offers optional mechanical self-leveling on its DL260 loader for the 2600 HD Series.
It keeps the bucket, forks or other front-mounted tools parallel to the ground. The loader also has a pedestal-mount design, quick-lock bucket, amplifying links and a universal skid-steer-type quick release.
"Attachments are an affordable way to add versatility to your tractor and business."
For a variation on the loader, Bradco has a 4-in-1 multi-purpose bucket that functions as a loader bucket with a grapple, dozer, box scraper and bottom dump bucket.
Break ground
Since working with dirt is such a large part of the typical landscaper's day, soil conditioners are also a top attachment choice. This attachment tears out old sod, grades topsoil, pulverizes dirt clumps or prepares seed/sod beds.
Bobcat's three-point soil conditioner also includes removable end plates, so you can contain and move material from one area to another. Available in 60- and 72-inch widths, the attachment is compatible with Bobcat's CT225 to CT450 tractors, as well as its skid steers and CTLs.
"Attachments enhance landscaping businesses by differentiating their capabilities," Althoff says.
Work through winter
A snowblower attachment can also allow you to optimize your tractor during the winter months, when business can be slow.
With operations similar to driving a car, tractors are easily maneuverable on snow-coated roads for plowing or blowing.
Kioti offers three front-mount snowblower models – 54-, 66- and 72-inch widths that are compatible with its CK line – which are powered by the tractor's mid-mount PTO. Reversible/replaceable carbon steel cutting edges are standard on the larger models, and the models have a hydraulically driven discharge chute, which rotates 282 degrees.
To utilize the back three-point hitch, Bobcat has a rear-mounted snow blower attachment that clears driveways, sidewalks and parking lots.
So whether you hook them to the front or back or use them to dig, till or blow snow, attachments are a cost-effective way to grow your services.
Watch Mahindra's video on how to attach and remove a loader from a utility tractor at youtube.com/TLCmagazine.