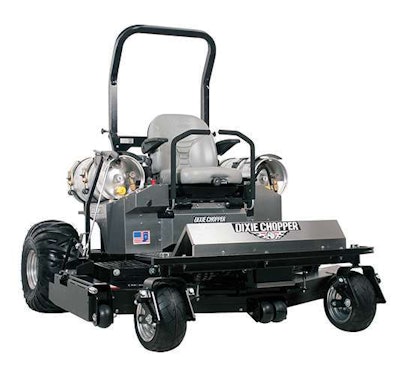 If a fortuneteller stared into her crystal ball, what would she see in the future for mowers? Hovering decks, reclining seats and engines that purify the air?
While none of those features seem to be in the near future, manufacturers are making changes to their equipment that forecast what landscapers could expect to see with new mowers.
"The focus moving forward will be developing higher efficiency machines that incorporate more technology in manufacturing, operation and maintenance," says Mark Meyers, marketing manager, Dixie Chopper.
In an essentially low-entry-cost market, focusing on improving productivity per hour and per dollar spent will help landscapers compete with the mow-and-blow types.
"The smartest landscapers recognize the efficiency gains from new-generation mowers and are utilizing them to get a leg up on their competition," says Jamie Palmer, product manager, John Deere Commercial Mowing. "These trends will continue as costs continue to increase."
With propane, Tier 4 emission standards, electronic fuel injection (EFI) and electric power all becoming hot topics in the sustainability discussion, landscapers should expect to see these options more and more when purchasing mowers.
"Most changes will be iterative," Palmer continues, "but there are several new developments on the horizon that may be true game changers for the industry. One can look at the increases in productivity recently experienced by farmers through intelligent solutions and extrapolate those to mowing."
Here are new technologies and redesigned features that, if taken advantage of, can help set one lawn maintenance service apart from the next.
Fading costs, emissions
Gas prices, maintenance costs and down time can really make or break a landscaper's services if not managed correctly. So, manufacturers have designed mowers that cost less in the long run, require less daily attention and reduce engine emissions.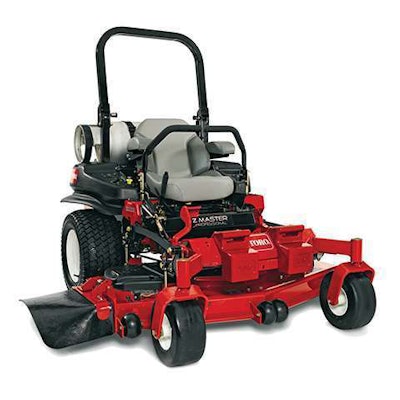 "Current trends involve lower-horsepower, smaller machines," Meyers says. "This trend will continue as long as the demand for fuel efficiency remains high."
One power source addressing fuel and upkeep costs is the EFI mower. A variety of companies have started to offer this engine option with their products, and it's something that will continue, according to Palmer.
Besides cutting down on fuel usage, EFI engines do not have a carburetor – resulting in reduced maintenance and replacement costs. Exmark, with its Lazer Z X-Series, and Toro, with the Z Master Professional 6000 (also available with a propane engine) and Commercial 3000 Series, offer EFI model options equipped with Kohler engines.
Electricity, not gas
While most landscapers probably won't be replacing their mower fleets with ones that plug up any time soon, electric mowers may play a larger role on the jobsite going forward.
For a school campus or grounds that require quiet operation, going electric might fit the bill, especially if the lawn is an acre or smaller.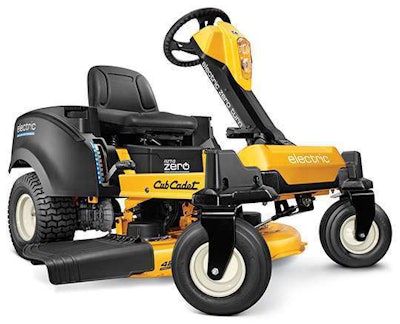 "Battery technology continues to improve, which will expand the opportunity for more versatile and environmentally friendly methods of caring for our green spaces," says Emily Sword, senior marketing communications manager, Cub Cadet. "But environmentally friendly doesn't just mean reducing gasoline emissions."
Cub Cadet's RZT S Zero electric ZTR mower does not produce emissions, provides a low noise level and doesn't require gas, oil, filters, belts or spark plugs. If landscapers are considering purchasing an electric mower, adding up the costs of fuel and parts not used in these mowers – then subtracting it from the price tag – can help when calculating the mower's overall expense.
What's next
While every new power source and option might not make sense for the industry as a whole, it's pretty obvious these aren't the same ol' mowers anymore.
"Professional users will be offered more choices than ever before between platforms, technology and features and will have to carefully evaluate which solution best fits their needs for productivity, efficiency, comfort and reliability," Sword predicts.
But as with every new invention or update, there's a higher price tag at the beginning. (Remember: The first successful minicomputer sold for $18,000, and look where the price is now.)
"Landscapers may incur higher equipment costs upfront, but the equipment will last longer and have a lower cost of ownership," Meyers says. "Eventually, the initial equipment cost will drop over time as alternative-energy technology becomes more common in the industry and more units are produced."
While no one can predict the future, one thing is clear: Mowers are changing. More sustainable options are no longer something that cut into productivity and cost too much to rationalize buying. So, landscapers and their crews should familiarize themselves with EFI, propane and even electric mowers.
If they don't, they'll be waving goodbye to new business in a cloud of their competitors' grass clippings.