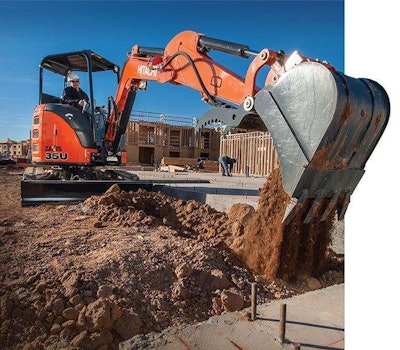 Here's how these machines are using attachments and features to leave a larger footprint on jobsites.
Whether it's the need to fit through a gate or minimize ground disturbance, small equipment like compact excavators continue to have a well-deserved place in landscapers' fleets. But these machines aren't resting on their portable size to win over the industry.
In the past five years, the market has seen an increase in the variety of compact excavators available, says Katie Pullen, marketing manager, Case Construction Equipment. "Originally, compact excavators were mainly used with a bucket for trenching and digging," Pullen says. "However, that has changed."
This expanded applications list has created a stronger demand for extended features. "Some of our customers who use large excavators want compact excavators that work the same way," says Mark Wall, product marketing manager for excavators, Hitachi and John Deere Construction & Forestry. "Features we saw only in larger excavators are now going to the smaller ones. Landscape contractors are expecting that level of productivity and up time."
Landscapers can fill in trenches, move dirt around, transport materials and load trucks with these excavators. "Compact excavators' popularity will continue to grow with contractors as they learn what all they can do with them," Wall says.
As landscapers' knowledge of this machine grows, so does its project portfolio, compatible attachments and features.
Do more
Attachments have played a large role in adding to compact excavators' range of tasks. "With a larger variety of attachments available for compact excavators, landscapers are using them for many more applications," Pullen says. "For example, users can add a thumb on a compact excavator and use it for placing landscaping rocks."
Landscape contractors can also attach augers to quickly plant trees or install fences. Other technologies, such as pattern control changers, are now standard and expected by many customers.
For trenching projects, angle backfill blades can help with trenching. "These (John Deere) models can be equipped with an optional, hydraulic, adjustable-angle backfill blade that feature 25 degrees of adjustment to both the left and right for more efficient trench backfilling," Wall says.
To handle a variety of sites, landscape contractors can also choose the tracks that are best suited for the conditions: rubber, steel or rubber pads with steel tracks.
Evolving excavators
Improving the machine's cab has become a priority when launching compact excavator lines, Wall says.
Joining Hitachi's Zaxis Dash 5 lineup, the ZX35U-5, ZX50U-5 and ZX60USB-5 compact excavators include an updated door design, which provides improved visibility to the left side of the machine when the door is closed. This door design also widens the door's size, compared to the Dash 3 models.
The John Deere 50G and 60G compact excavators also include a broader door, along with an updated operator station. A multifunction monitor provides a coolant temperature and fuel gauge, two trip meters, clock, regeneration inhibit, machine hours, auto shut-down control and other functions.
"With the advancements in hydraulics and electronics, more features are being integrated into the cab," Pullen says, "allowing users to realize even more efficiencies."
Although more features are becoming standard across the board, there are still differences between compact excavator models. Wall suggests testing out the equipment before buying.
"Work with a dealer and try to put it on the jobsite and see what works for you," Wall says. "You're going to spend good money there. Machines last a long time. Make sure you get the right size and the right machine for the job."
To see 10 forgotten applications, click here.