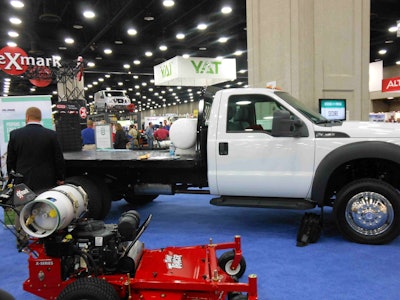 Propane's presence in 2013 paves the way for a cleaner, more efficient 2014.
Manufacturers, dealers and landscape contractors alike have felt propane's increasing influence in the green industry this year. A growing list of propane-fueled equipment, unnerving E15 issues, and the desire to cut fuel costs have all contributed to the rise in propane's market share. The green alternative fuel has made a name for itself beyond the backyard grill and will continue making strides in 2014.
Propane Garners Attention at GIE
This year's GIE+EXPO wasn't just a banner year for attendance — propane also prominently stood out at the show. Attendees were all buzzing about the alternative fuel, either touting their firsthand experiences or inquiring about how to make the transition, reports the Propane Education & Research Council's (PERC).
PERC booth visitors inspected the equipment on display, including six propane-fueled mowers from Exmark, Gravely, Hustler, Kubota, Toro and Ventrac, as well as Kohler's dedicated propane EFI engine and Kawasaki's propane engine. The variety of deck sizes and models from various OEMs appealed to landscape contractors who tend to be brand loyal. More OEM options means landscapers don't have to switch manufacturers or dealers to reap propane's competitive advantages.
Several other OEM booths also featured propane-fueled models, and Metro Lawn's booth demonstrated how contractors can convert their existing gasoline models to propane. The excitement around propane continued to gain momentum when John Deere announced their approved propane conversion program. Landscape contractors can now purchase select new John Deere zero-turns, walk-behinds and stand-ons with a dealer-installed propane EnviroGard conversion kit. EnviroGard/Tech Services is also providing dealer training to ensure the kits are installed correctly, deliver optimal performance, and adhere to all EPA standards for small engines.
Including John Deere, there are now 17 OEMs manufacturing propane: Big Dog, Bob-Cat, Dixie Chopper, Exmark, Ferris, Gravely, Husqvarna, Hustler, John Deere, Kubota, R&R Products, Scag, SnapperPro, Toro, Ventrac and Zipper. Two manufacturers are making EPA- and CARB-certified kits: EnviroGard and Metro Lawn. Thanks to increasing dealer and contractor demand, manufacturers are stepping up and realizing the cost and environmental advantages of propane for their customers.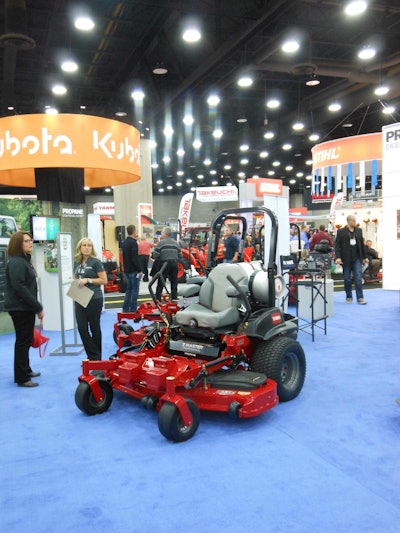 Propane Mower Incentive Program Makes Strides in 2013
As we're nearing the end of the year, comprehensive data on PERC's Propane Mower Incentive Program (PMIP) is becoming available.
The Propane Mower Incentive Program (PMIP) allows contractors to receive $1,000 toward the purchase of new propane-fueled commercial mowers or $500 toward qualified mowers converted to run on propane. To date, the PMIP has helped contractors save $648,500 on initial purchases of new OEM models. Funding will continue to be available through 2014.
Propane's One-Fuel Solution Provides Total Package
Increasingly, contractors want to hear how to extend operating cost savings with propane into other parts of their equipment fleet. Generac's LP3250 and LP5500 propane-fueled portable generators and Ford's F-550 pickup truck with a Roush CleanTech liquid propane autogas fuel system generated a lot of interest at GIE+EXPO.
Roush CleanTech, a Ford Qualified Vehicle Modifier, and GM, in partnership with CleanFuel USA, offer truck options ideal for a landscape contractor. Ford F-250 and F-350 propane-autogas-fueled trucks are economical for day-to-day operations. For landscapers who need a heavier duty truck, Ford F-450 and F-550 models and CleanFuel USA's medium-duty GM 4500 chassis provide a larger frame and engine. EPA-certified bi-fuel conversion kits can also be installed on existing vehicles through aftermarket suppliers for landscapers who need to convert a model not available from an OEM. Propane autogas trucks provide equivalent torque, performance, and horsepower to gasoline counterparts, ensuring contractors will get the same results they've come to expect from their vehicle.
Propane generators are yet another piece of equipment for contractors looking to make the most of propane's benefits. Generac's LP3250 and LP5500 propane-fueled portable generators can charge and power electric handheld equipment, in addition to providing power needs for many other tasks.
Propane-fueled equipment produces fewer emissions compared with gasoline or diesel, which also gives landscapers a unique advantage in the bidding and sales process. As corporations, businesses and homeowners become more environmentally conscious, the demand for greener landscape services will increase, giving contractors who operate on propane a definitive edge. Propane-fueled equipment can also be used on ozone-action days in most areas.
Propane's role in the green industry is only going to gain traction in 2014 and beyond, PERC predicts.