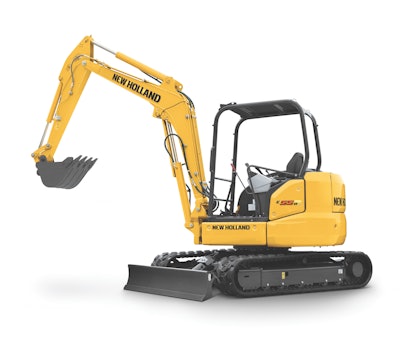 New Holland has launched its latest compact excavator, a model big on fuel savings but small on footprint and noise.
The new E55BX is built on a short radius platform and has only minimal tail swing overhang, making it a perfect fit for work on tight jobsites or up against buildings and other obstructions.
Boosting the machine's appeal as a fit for tight spaces is its new downward exhaust. New Holland explains that since many smaller workspaces involve operation near plants and other delicate structures that might be damaged by heated exhaust gases, the E55BX discharges exhaust beneath the machine rather than beside it when the +E option is engaged.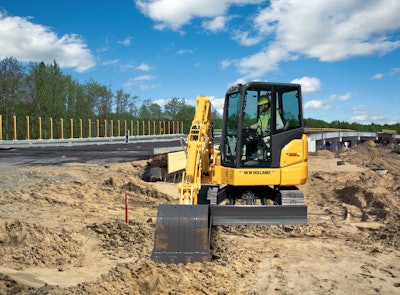 Another bonus on tight jobsites around occupied buildings or near busy spaces (not to mention for the operator) is New Holland's Integrated Noise and Dust Reduction. This filter is installed in front of the radiator and manages incoming and outgoing air to filter particulates and reduce noise by up to 9 decibels.
The machine also features three fuel consumption modes: L mode for low idle; S mode for fuel-saving, and H for high idle. New Holland says S mode reduces fuel consumption up to 23 percent compared to H mode.
An LCD monitor is now an available option on the machine, displaying the machine's fuel gauge, water temperature as well as alerts when the fuel filter, hydraulic oil filter and hydraulic oil need replacing. The display also gives the operator access to the machine's performance stats for the last three months.