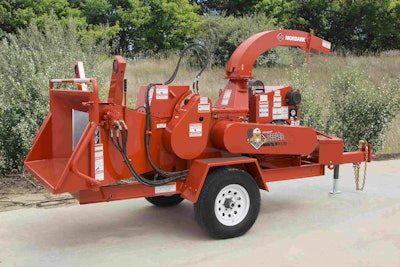 Morbark's new 12-inch brush chipper, the Beever M12RX, offers reliable production in a cost effective package.
Billed as an entry-level machine, the Beever M12RX is lighter and more economical than the M12R, but Morbark promises it's just as robust, rugged and reliable. The company touts the M12RX as powerful, compact and easily transportable – suitable for utility line clearing, residential tree services, rental yards and municipalities.
With the same large chute and throat openings as the standard M12R, the M12RX allows for easy feeding of branches and reduces saw labor. The M12RX will be equipped with engine options that address customers' concerns about emission regulations; the first units off the line will have an 89-horsepower gasoline GM engine and later units will include the option of a Tier 4 Final diesel engine. The M12RX features a new style discharge and a dual-sided, chambered air impeller system for efficient throwing of even the most challenging material.
Like all Morbark chippers up to 18-inch capacity, the M12RX can be equipped with Morbark's ChipSafe Operator Safety Shield, which stops the chipper's feeding mechanism if the operator's ChipSafe gloves or ankle/wrist straps enter the ChipSafe sensing zone in the infeed chute.
"We listened to our customers when designing the M12RX," says Casey Gross, Morbark Tree Care Products sales manager, said. "This 12-inch chipper has the high productivity and quality that Morbark chippers are known for, in a lighter, more affordable package."