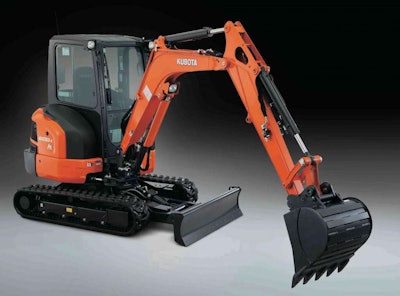 Kubota Tractor's newest member of the company's KX compact excavator series, the KX033-4, debuted at the 2017 World of Concrete. The 3-ton-class excavator now shares many of the standard features of Kubota's larger class machines, including a larger cab, dash-controlled presets for auxiliary circuits and a standard hydraulic diverter valve. It is available at dealerships this month.
Powered by a 24.8-gross-horsepower direct injection Kubota Tier 4 Final engine, the machine has adjustable hydraulics that allow the operator to program up to five different oil flow rates, controlled from a digital control panel.
The engine rpms may be set to automatically idle when the control levels are in neutral for more than four seconds, giving the unit increased fuel efficiency and lower noise. The conventional-tail-swing KX033-4 has a dig depth of 10 feet 6 inches, and replaces the KX91-3.
The machine's auxiliary hydraulic circuit is capable of a maximum oil flow of 15.8 gpm. The high-capacity hydraulic system powers a performance-matched boom, arm and bucket with a maximum bucket breakout force of 8,138 pounds and 3,867 pounds on the arm.
The standard third-line hydraulic return system allows oil to return directly back to the tank without flowing through control valves, resulting in less back pressure and heat, and greater efficiency.
"A standard diverter valve is located on the dipper stick, allowing two attachments, such as a thumb and a hammer to be hooked up at the same time," says Jeff Jacobsmeyer, Kubota product manager. "After an operator is done with a breaker, for example, he can take a wrench and turn the valve so he can use the thumb."
An accumulator clears residual pressure, allowing easier attachment changes, and helping lower front attachments when the engine is turned off. All hydraulic lines have been repositioned inside the dipper stick, moving them away from the sides and out of harm's way.
In addition, the LED light has been moved from the side of the boom, and is now positioned in the crook of the boom. Kubota uses a reversible and replaceable cutting edge on both its straight and optional angle blade.
"Many people opt to use an angle blade because it makes it a lot easier to backfill," says Jacobsmeyer. "And with the reversible cutting edge, you just unscrew eight bolts, flip it over, and you have another wearing surface in a matter of about 20 minutes."
The angle blade is operated by a single lever in the cab that controls the blade's up, down and float movements; left and right angle positioning is made by a rocker switch on top of the lever. A standard float function allows for worksite cleanup and back dragging.
The reclining high-back suspension seat provides operator comfort and includes weight compensation and firm, adjustable wrist supports. A wider, updated digital display panel with push button operation lets an operator monitor critical controls, such as hydraulic oil flows.
The Aux 1 operation switch is located on the right joystick control level and a two-speed travel switch is on the dozer lever. The machine automatically shifts from high to low in heavy dozing applications, and as the load lessens, switches back to higher speeds.