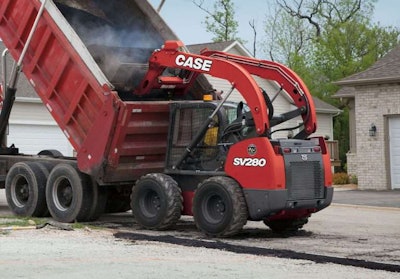 If you like your skid steers in a shade other than yellow, and you want to own a piece of history, Case has a machine for you. But you'll probably need to act fast.
In celebration of the heavy equipment manufacturer's 175th anniversary, Case has unveiled a limited edition lineup of skid steer and compact track loaders with a red paint scheme. While the company's Construction Equipment products typically come in an orange-gold hue, its agriculture machines have long sported a coat of red. The limited edition loaders are a tip of the hat to where Case got its start in 1842: manufacturing farm equipment.
"The red skid steer and compact track loaders are an excellent way of connecting our construction and agricultural heritage in two core product lines that work heavily in both markets," says John Dotto, Case CE brand marketing manager. "It celebrates the milestone and gives our customers an opportunity to own a little bit of equipment history."
The company was founded by Jerome Increase "J.I." Case as the Racine Threshing Machine Works in Racine, Wisconsin. But Case's construction roots run nearly as deep. In 1869 it began contributing to the country's early road-building efforts with the release of the first portable steam engine. The company also released the first factory-integrated tractor loader backhoe in 1957.
Case construction and agriculture dealers in the U.S. and Canada will sell these limited edition red SSLs and CTLs, but only 175 will be available. In addition to the red paint job, the loaders will feature special badging honoring the company's 175th anniversary.
EDITOR'S NOTE: Wayne Grayson is the online managing editor of Equipment World, another Randall-Reilly publication.